ECSU to Offer COVID-19 Testing to Northeastern North Carolina
Posted On October 15, 2020
---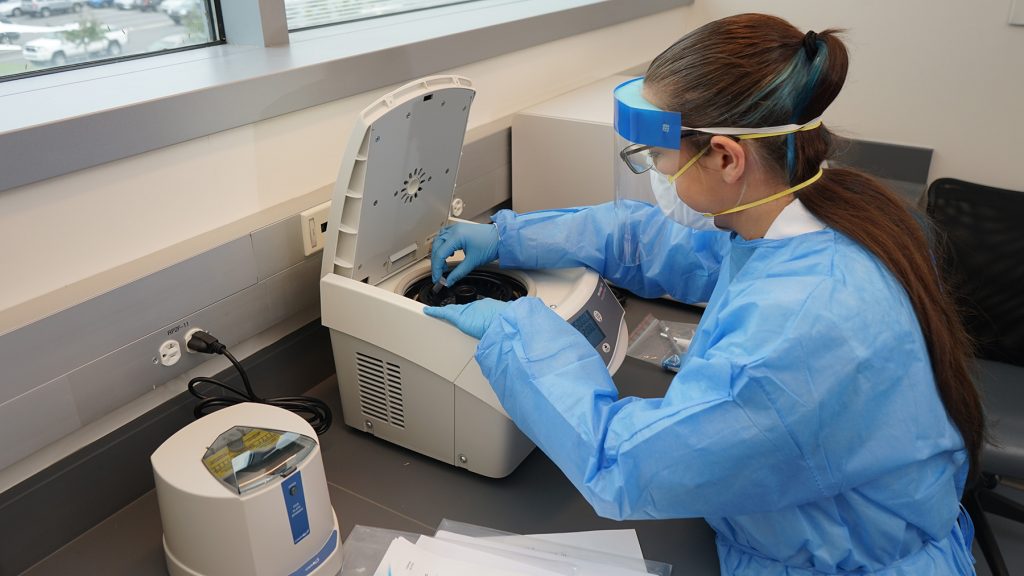 The limited availability of COVID-19 testing has been a challenge throughout the pandemic, especially in rural America, including Northeastern North Carolina. Elizabeth City State University is going to mitigate that challenge by offering COVID-19 testing throughout the 21-county region.
ECSU received a $1 million grant from the N.C. Policy Collaboratory at UNC-Chapel Hill that will be used to provide COVID-19 testing as well as conduct contact tracing and raise awareness about the virus, safety guidelines, contact tracing and testing.
The first community outreach event will take place Monday, Oct. 19, from 4-6 p.m. at the Faith and Victory Christian Center, 1046 Horseshoe Road. Community members throughout the 21-county region are encouraged to attend to learn more about the virus and how to get tested.
"ECSU is now able to provide a critical service to the community," said Dr. Kuldeep Rawat, dean of the School of Science, Aviation, Health and Technology, and project lead. "We will be providing free COVID-19 testing and assisting with contact tracing in an effort to minimize the spread of the virus."
ECSU will conduct preliminary diagnostic testing for COVID-19 with technologically advanced, real-time PCR machines. PCR machines are used for diagnostics testing and will assist the university in producing test results as quickly as possible. ECSU faculty and staff along with three biology graduate students have been trained to administer the tests.
Testing will begin on Monday, Oct. 19. To receive a COVID-19 test, a form for community members is available online and can be accessed HERE; a form for ECSU students is available HERE; and a form for ECSU employees is available HERE.
Individuals who wish to be tested for the COVID-19 virus must complete and submit the online form. A nurse will contact the individuals to verify the information and select a date and time for the test. To ensure confidentiality, the individuals will then receive a follow-up call with a unique reference number they will bring to their testing appointment.
"You have to be scheduled online and show up with the personal code from your registration," said Dr. Anthony Emekalam, chairperson of the department of health and human studies, and the project's community outreach coordinator. "This will protect the identity of the individuals being tested."
ECSU will provide testing at the Monday, Oct. 19 event. Individuals who want to get tested at the community event must complete the formby Friday, Oct. 16.
In addition to testing, 26 undergraduate students assisting with contact tracing will be able to follow up with people who may have been in contact with a person testing positive for COVID-19. Those people will then have the opportunity to receive a test, potentially stemming the spread of the virus throughout the region.
ECSU is intentional about including graduate and undergraduate students in grant projects. With a goal to increase experiential learning, providing opportunities to participate in grant projects gives students important, hands-on experience that will help them transition to careers after graduation.
"I am excited about ECSU's role in providing needed COVID-19 testing for our communities and education about mitigating the spread of the virus in Northeastern North Carolina," said ECSU Provost Farrah J. Ward. "These efforts align with ECSU's strategic plan to promote and support faculty and student applied research efforts in the community."
ECSU is the only public university in the northeastern region of North Carolina and is surrounded by 21 counties of which most are designated as Tier 1 counties. Tier 1 counties are among the poorest in the state. During the COVID-19 pandemic, many of these counties have been adversely affected by the spread of the virus. In particular, Bertie, Halifax, and Northampton have experienced per-capita coronavirus rates higher than some urban centers. Bertie County has the second highest per-capita burden of coronavirus among rural counties in the state.
The N.C. Policy Collaboratory grant was issued to the UNC System's Historically Minority Serving Institutions, or HMSIs, across the state. Each of the system's six HMSI campuses are participating in a variety of COVID-19 activities. Click hereto learn more about ECSU's grant program.
---