ECSU to Host Viking Entrepreneurship Week Featuring Home Design and Remodeling Expert, University Alumna Ashley Basnight
Posted On February 6, 2023
---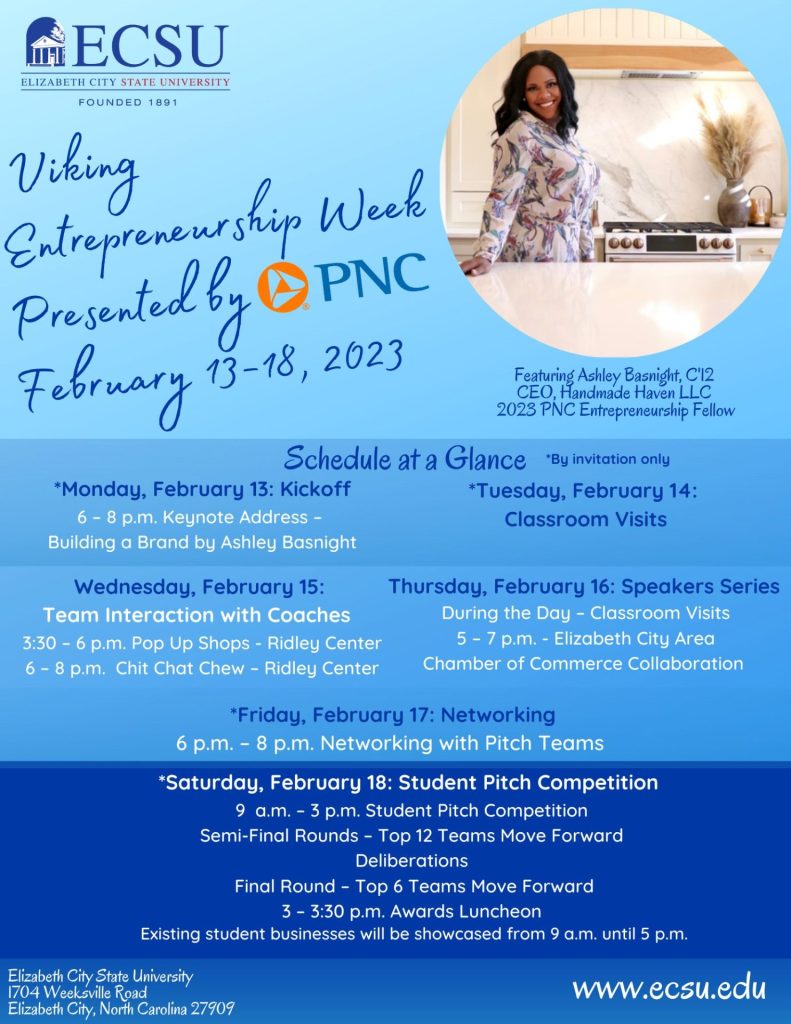 Elizabeth City State University (ECSU) will host its second Viking Entrepreneurship Week, presented by PNC, from Feb. 13-18, 2023, with DIY home design expert and ECSU alumna Ashley Basnight to provide coaching and mentorship to student-entrepreneurs in her capacity as ECSU's 2023 PNC Entrepreneurship Fellow. The weeklong series will kick off with a keynote address and insights from Basnight on building a brand. Throughout the week, students will have the opportunity to participate in pop-up shops, a speaker series with entrepreneurs and an event hosted in collaboration with the Elizabeth City Area Chamber of Commerce. The programming will culminate Sat., Feb. 18, with a student pitch competition in which more than 30 teams from six Historically Black Colleges and Universities (HBCUs) will participate.
"We are excited to have Ashley Basnight come home to ECSU as the 2023 PNC Entrepreneurship Fellow," said Joy Turnheim Smith, Ph.D., Dean, ECSU School of Education and Business and Director of Graduate Education. "Ashley displays the creativity of students from majors across the institution. ECSU is thrilled by the opportunities that the PNC Foundation grant gives all of our students to create and grow their businesses and brands. We look forward to our students benefitting from Ashley sharing her experiences that have created and built her brand."
Viking Entrepreneurship Week and the PNC Entrepreneurship Fellow program are made possible through a multi-year grant from PNC Foundation. In February 2022, PNC Foundation launched the PNC North Carolina HBCU Initiative, a three-year, $2 million effort that aims to enrich the future of entrepreneurship and create workforce opportunities in the state. ECSU is one of five N.C. HBCUs receiving grant funding through this initiative. In addition to the scope of the weeklong programming and fellowship, the grant helped establish the recently opened ECSU Entrepreneurship Fab Lab and Social Media Marketing Lab powered by PNC.
"All of us at PNC recognize ECSU's integral role in driving economic progress locally and preparing its students for success in business and leadership," said Jim Hansen, PNC regional president for Eastern Carolinas. "We look forward to joining the campus community for Viking Entrepreneurship Week and the many learning and professional development opportunities that are in store." PNC hosted the first PNC North Carolina HBCU Initiative Pitch Competition on Friday, February 3, 2023, in Greensboro, N.C., and three ECSU students—Brandon Shaw, Quante Bishop and Joshua Hunter—won second place. A news release about the competition is available here.
Meet ECSU's 2023 PNC Entrepreneurship Fellow, Ashley Basnight
Basnight, who earned a Bachelor of Science from ECSU in 2013, is the founder of Handmade Haven LLC, a full-service home remodeling and design studio based in Oklahoma City, Oklahoma. A native of Currituck, North Carolina, she began a career in engineering upon graduation. "I interned at Boeing and started working at the company's Oklahoma City plant one month after graduating," says Basnight. "Over the course of my nine years at Boeing, I was promoted from working in software engineering systems development and test engineering to becoming a software test lead for the plant."
Basnight wanted to be the first in her immediate family to become an entrepreneur and transitioned full-time to focus on her passion as a home designer and remodeler in 2021. "As an engineer, I built things and also gained the experience of being in management, leading a team, running a business effectively and working through conflict. It was valuable for me to have a corporate job and gain those skills before pursuing entrepreneurship. I have been able to effectively apply all that I learned over the years to my own business," states Basnight. She also birthed Handmade Haven to empower women and others to learn how to build on their own and make their homes beautiful. "Isaiah 61:3, which speaks to giving a crown of beauty for ashes, is what I set out to do," she notes. Her background as an engineer is a point of distinction in her business. "In this industry, people either build or design, and I do both."
Basnight reflects on how she decides to work with clients and enjoys working with those who give her full creative control. She notes that her favorite project to date is her parents' master bathroom renovation. "They'd been wanting to update their bathroom for a long time, so I took a few weeks to do a reno and they loved it. I had fun and it was the first project my dad and I worked on together from start to finish." Currently, her dream is to host her own television design show, and she is well on her way after appearing on NBC's "Making It: Season 2," "The Drew Barrymore Show," in Home Depot's Advent Calendar DIY On-Trend Workshops on YouTube and having a feature story on her business in Better Homes & Garden magazine. She is continually growing her brand presence and has amassed an Instagram following of more than 250,000 – and growing – on her handle SmashingDIY.
For more information on Viking Entrepreneurship Week, contact Dr. Joy Smith at jtsmith@ecsu.edu or 252-335-3485.
---