ECSU to Host PSA Airlines on March 2 as Aviation Program Looks to Expand Opportunities for Students
Posted On February 27, 2023
---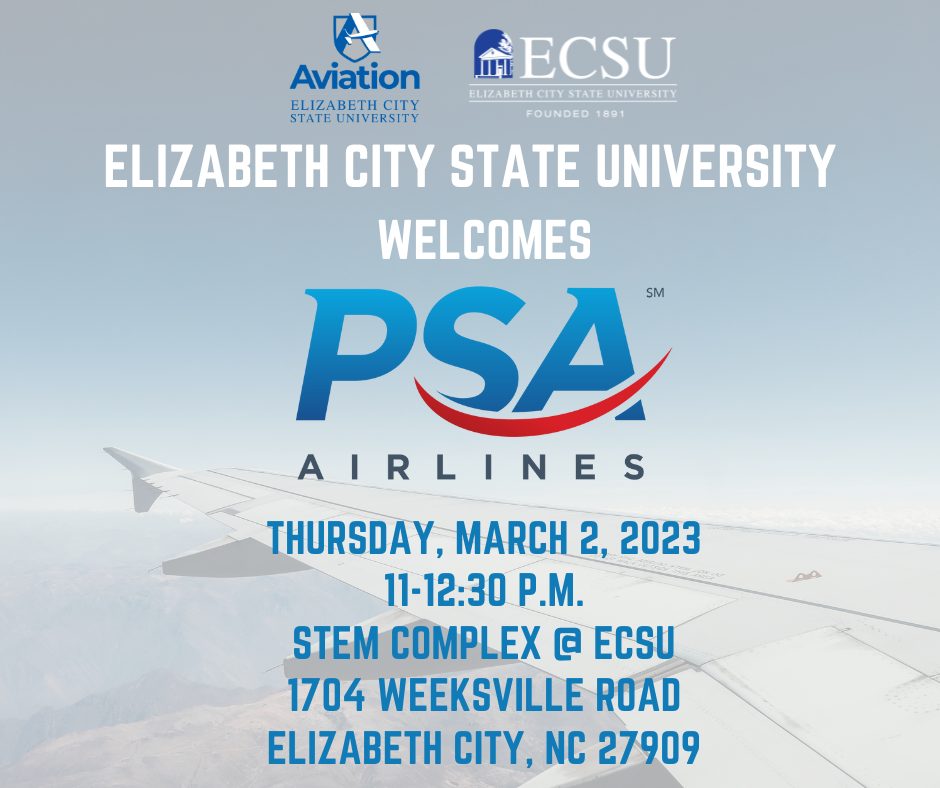 Elizabeth City State University (ECSU) will host PSA Airlines on Thursday, March 2, 2023, at 11 a.m. The visit will also include a gift presentation to the university.
ECSU is building a relationship with PSA Airlines, a wholly owned subsidiary of American Airlines that provides more than 800 daily regional flights throughout the midwest and eastern United States to nearly 100 destinations as part of the worldwide American Airlines travel network. Headquartered in Dayton, Ohio, PSA Airlines operates an all-jet fleet consisting of exclusively Bombardier regional jet aircraft.
ECSU offers the only four-year Aviation Science and Unmanned Aircraft Systems (UAS) degree programs in North Carolina. The Aviation Science program's five areas of specialization, include: Flight Education; Aviation Management; Avionics; Unmanned Aircraft Systems (UAS) and Professional Aeronautics. Enrollment in the program totals more than 180 students, with a nearly 60 percent minority student population. Further, ECSU is one of 40 institutions worldwide to offer an aviation degree program accredited by the Aviation Accreditation Board International (AABInternational).
ECSU to Host PSA Airlines on Thursday, March 2, at 11 a.m.

WHAT:
PSA Airlines Visits Elizabeth City State University
WHEN:

Thursday, March 2, 2023, at 11 a.m. & 1 p.m.

Media Contact: Ayana Hernandez at mediaquestions@ecsu.edu, 252-335-3686

WHERE:

Elizabeth City State University

11 a.m.- PSA Airlines Visits ECSU's Aviation Science Program, STEM Complex, 1st Floor

1 p.m.- Formal Presentation and Photo Opportunity, Thorpe Administration Building, 3rd Floor

1704 Weeksville Road, Elizabeth City, NC 27909
---