ECSU to Confer Honorary Doctorate to Dr. William L. Roper, former UNC System Interim President
Posted On August 24, 2020
---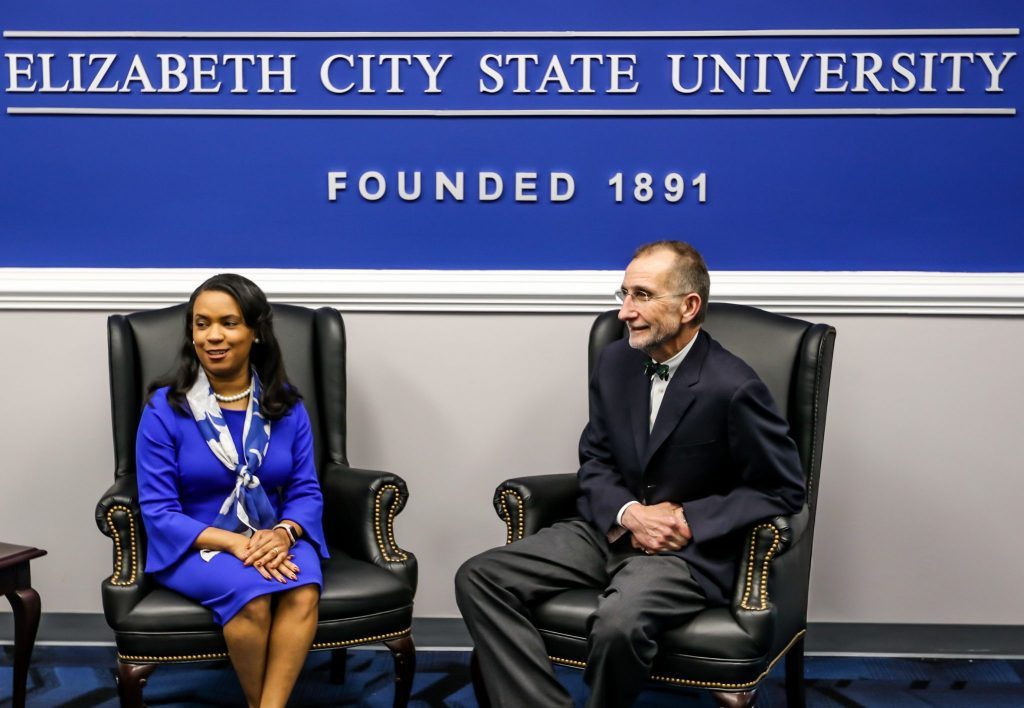 Former UNC System Interim Pres. William Roper, right, joined ECSU Chancellor Karrie G. Dixon during a visit to campus in April 2019. ECSU will confer an honorary doctorate to Dr. Roper Aug. 26.
Elizabeth City State University will confer to former UNC System Interim President, Dr. William L. Roper, an honorary Doctor of Science degree on Wednesday, Aug,. 26 at 3 p.m.
The ceremony, to be attended by Dr. Roper, ECSU Chancellor Karrie G. Dixon, and Provost Farrah Ward, will be held virtually, and can be viewed via livestream HERE.
The honorary degree is in recognition of his service to the UNC System and higher education in North Carolina, and for his ongoing support of ECSU during his time as interim president.
"We are forever grateful to Dr. Roper for his support and encouragement of ECSU while serving as the system interim president," said Chancellor Dixon. "His leadership has been marked by progress throughout the system as well as during the COVID-19 pandemic."
Dr. Roper began as interim president Jan. 1, 2019. His term ended July 31, 2020, when Peter Hans officially became system president.
Dr. Roper was previously the dean of the School of Medicine and vice chancellor for medical affairs at the University of North Carolina at Chapel Hill and CEO of the UNC Health Care System. He also was professor of health policy and management in the School of Public Health and professor of pediatrics and of social medicine in the School of Medicine at UNC-Chapel Hill.
From 1997 until 2004, he was dean of the School of Public Health at UNC-Chapel Hill.
Before joining UNC-Chapel Hill in 1997, Dr. Roper was senior vice president of Prudential HealthCare. He joined Prudential in 1993 as president of the Prudential Center for Health Care Research.
Prior to his time at Prudential, Dr. Roper was director of the Centers for Disease Control and Prevention (CDC), served on the senior White House staff, and was administrator of the Health Care Financing Administration (responsible for Medicare and Medicaid). Earlier, he was a White House Fellow.
---