ECSU to Compete for Championship Title at 30th Annual Honda Campus All-Star Challenge in Los Angeles
Posted On February 22, 2019
---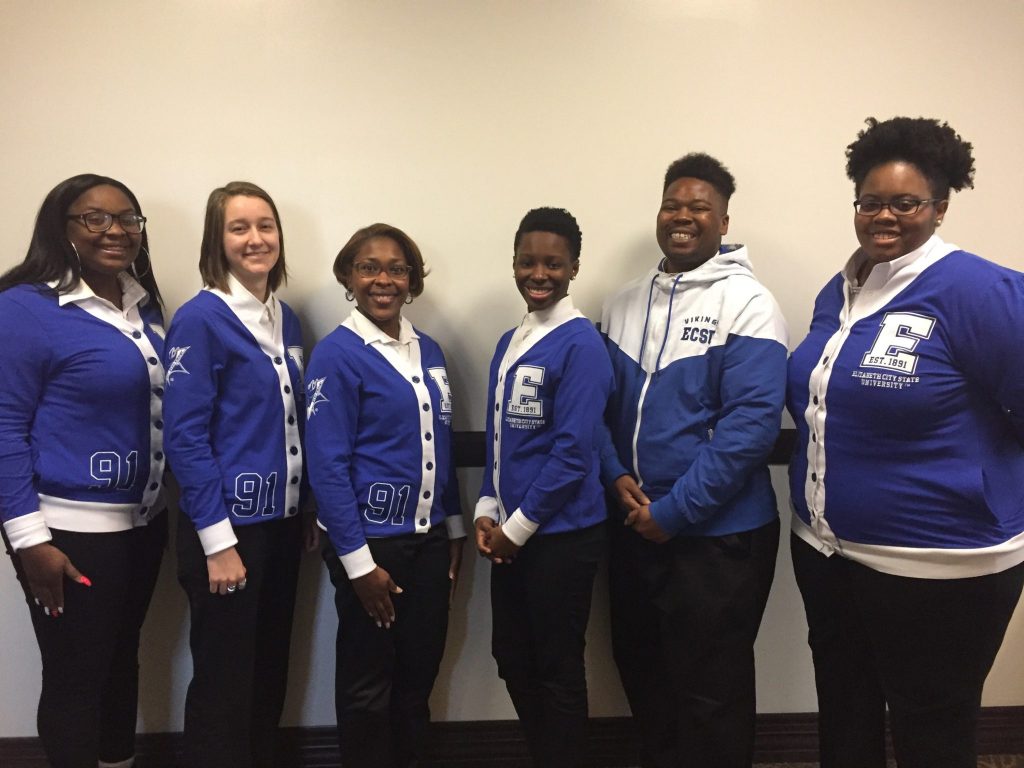 Students competing on this year's ECSU Honda Quiz Bowl team are, left to right, Jasmine Roundtree, Brenna Daniel, team coach Yolanda Carcana, Nyla Harris, Michael Pope, and Arrhia Palmer. The ECSU team has been named one of 48 national teams to vie for the championship title.

After winning a series of regional competitions, Elizabeth City State University is one of 48 schools that will vie for the championship title at the 30th annual Honda Campus All-Star Challenge (HCASC), America's premier academic competition for Historically Black Colleges and Universities (HBCUs).
The HCASC National Championship Tournament will be held April 13-17, 2019 on the American Honda campus in Torrance, California. Elizabeth City State University has the opportunity to win the HCASC top prize – a $75,000 institutional grant from Honda.
Arrhia C. Palmer, a Sophomore majoring in chemistry from Elizabeth City, Jasmine R. Roundtree a sophomore majoring in communications from Elizabeth City, Brenna E. Daniel a junior majoring in aviation science from Morganton, North Carolina, and Nyla P. Harris a sophomore majoring in Biology and  pre-dental from Camden, North Carolina, will represent ECSU, with Yolanda Smalls Carcana coaching the team.
Honda Campus All-Star Challenge connects some of the nation's best and brightest HBCU students who expand their scope of knowledge, learn teamwork and sportsmanship, and develop a bond with their fellow competitors. The fast-paced buzzer competition highlights students' academic prowess and ability to answer questions about history, science, literature, religion, the arts and pop culture.
Outside of game play, the year-round program provides community service activities, leadership, networking opportunities and mentorship.
"For 30 years, Honda Campus All-Star Challenge has provided a platform for the nation's top HBCU students to advance their dreams," said Steve Morikawa, vice president of Corporate Relations and Social Responsibility at American Honda. "Honda congratulates the 'Great 48' for their incredible work ethic, teamwork and competitive spirit. We look forward to an exciting National Championship Tournament and crowning the 2019 HCASC National Champion in April."
In 1989, Honda established HCASC as a way to recognize and celebrate the academic achievements of HBCU students. More than $9 million in grants from Honda to participating HBCUs have been used to fund tuition and book scholarships, student development initiatives, endowment and development campaigns, as well as facilities and equipment. Over its 30-year history, HCASC has built a network of more than 125,000 program alumni.
The 2019 Honda Campus All-Star Challenge finals will be live-streamed on Tuesday, April 16 starting at 12:00 p.m. ET. To view the live stream and for more information about HCASC, including a full list of the 48 qualifying teams, visit HCASC.com.
---