ECSU Technology Team Designs and Produces 3D Printed PPEs
---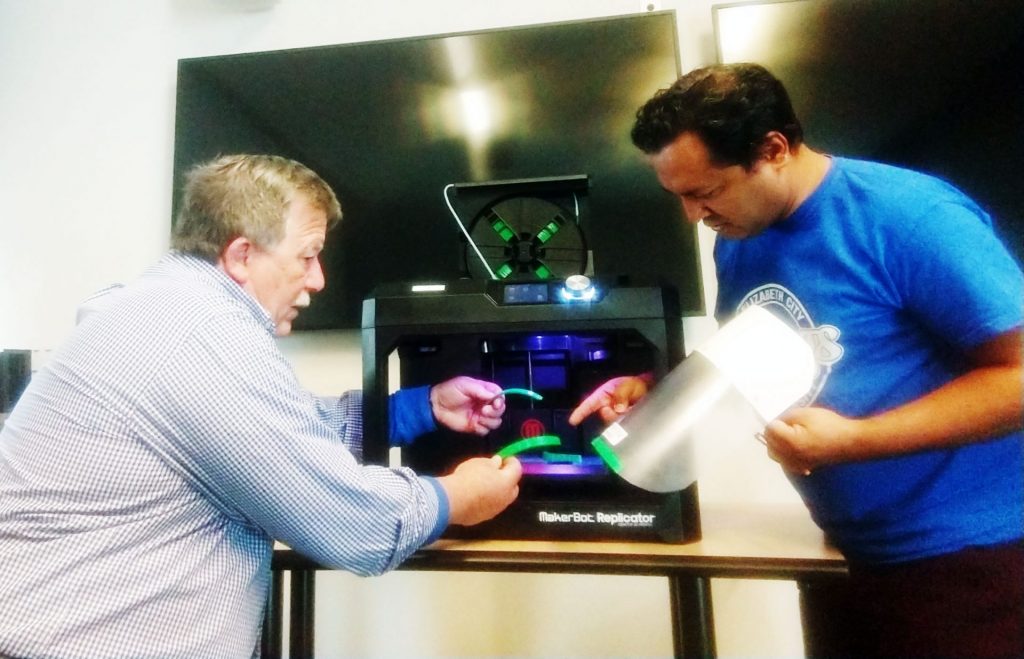 Elton Stone, left, and Dr. Kuldeep Rawat work on a 3D printed prototype for a protective face shield. The shields can be used to protect workers from the spread of a virus. They cost 25 cents to produce and ECSU can produce up to 200 shields per week.
When Elizabeth City State University professor and dean of science, aviation, health, and technology, Dr. Kuldeep Rawat, heard what people working with 3D printers are doing to help produce Personal Protective Equipment, or PPEs, he brought his team together to design and create a prototype face shield. The shields, he said, are designed to industry specifications, and he hopes they can be used beyond the medical community to keep workers in the public safe. 
"After discussing with an Emergency Management colleague, Dr. Kevin Kupietz, we settled on the specifications available on the U.S. Department of Health and Human Services website," said Dr. Rawat.
Working with another ECSU professor, Elton Stone, Dr. Rawat and his team have produced a prototype face shield using material available in the university's 3D lab. He says each shield costs 25 cents to produce.
ECSU currently has six desktop Makerbot Replicator 3D printers. Each shield, said Dr. Rawat, takes little more than three hours to print.
"The next step is, we can produce 180-200 shields a week," he said. "We can produce them right here at ECSU."
The ECSU team began working on the prototype for the face shield during the latter part of March. According to Dr. Rawat, the shield can be used by anyone in service who faces the threat of COVID-19 on a daily basis.
"We are working to help as many people as possible such as staff in stores and pharmacies or simply anywhere people may come into contact with one another," said Dr. Rawat.
Dr. Rawat says the shield can improve protection from viruses that spread through the air through sneezing, for example. The shield can also extend the use of other protective equipment by offering additional protection.
The shield, he said, can also be disinfected and reused. Disinfecting solutions include Isopropyl alcohol, Ethanol, Sodium Hypochlorite, Hydrogen Peroxide, or plain soap and water.
Dr. Rawat says his team is also looking at the future of the protective shields, combining them with smart technology.
"Future enhancements will include integrating low cost sensors and computing devices to transmit vital data to hand-held devices such as an iPhone," said Dr. Rawat. "This will basically convert the current face shield to a 'smart face shield.'"
ECSU Face Shield Design Facts
The face shield visor is manufactured using the Polylactic acid (PLA) filament material;
20 percent is infill material (density) with little over three hours of printing;
The ECSU face shield can be assembled under a minute;
Material cost is 25 cents per shield;
The fastener for the back of the Visor is a standard #33 rubber-band, which is non-latex. Most (smaller) rubber-bands have latex and may not be allowed at care-provider sites;
Can be decontaminated for multiple time use.
---