ECSU Tech Showcase Brings Top Industry Professionals to Region
---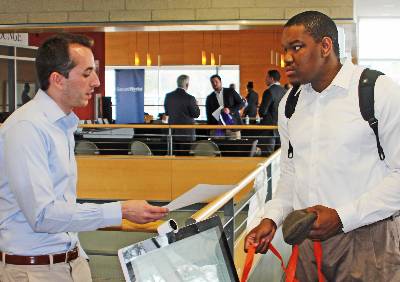 Technology professionals Elizabeth City State University students staff and area community members huddled around tables and inside classrooms at the Ridley Student Center Wednesday March 22 to learn more about what the tech industry has to offer them.
It was the Tech Showcase sponsored by the ECSU IT department and its mission says university Chief Information Officer Suresh Murugan is to bring needed resources to Northeast North Carolina.
"Our ECSU mission is to serve this region" said Murugan. "Bring big name vendors to the region so regional IT people can benefit from this partnership."
The partnerships Murugan is referring to are with some of the world's top IT companies. The university and its IT team have been working with the likes of Microsoft Dell or CISCO to bring ECSU's technology up to date and on the cutting edge of what's available to centers of higher education.
"We have the best in the world here but on a smaller scale" said Murugan.
Murugan and his ECSU IT team are following the lead of Chancellor Thomas Conway. Chancellor Conway has made it known both on campus and throughout the region that ECSU has resources that will benefit Northeast North Carolina. The university he says is inviting the region to come on campus to participate in events such as Tech Showcase and ECSU will also be bringing its skills and knowledge out to the communities it serves.
"We're here to talk about the needs of the region to help grow industry and entrepreneurship" said Chancellor Conway during his opening remarks at the Tech Showcase.
Tech industry professionals spent the day meeting with the public as well as giving presentations on topics ranging from security to cloud services to network upgrades. Murugan says the showcase was an opportunity to share the best resources available to ECSU.
"People can come and see that we offer the best tech opportunities in this region" said Murugan.
---