ECSU Students win Environmental Protection Agency Scholarship
---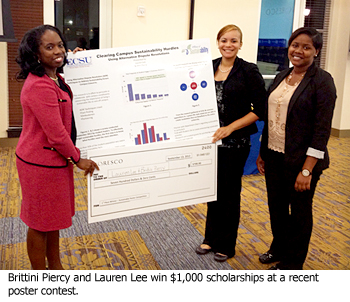 Cassidy Cannon
March 06, 2013
ECSU students Brittini Piercy and Lauren Lee received a $1,000 scholarship for their contribution in a recent poster contest that involved 16 institutions participating in Region 4 of the Environmental Protection Agency's first poster contest.
The poster contest was one of the many student activities held at the Regional Greening Your Campus and Curriculum Symposium. It was hosted by the Environmental Protection Agency, North Carolina A&ampT University, and Bennett College.
Students were given a list of topics to address. The winners selected &quotUse Alternative Dispute Resolution Techniques to address sustainability/green campus concerns.&quot
The young ladies partnered with the Office of Sustainability and Center for Green Research and Evaluation to conduct a sustainability literacy survey to learn how well the campus was acclimated to the &quotgreen&quot world.
Questions ranged from &quotDo you turn off lights when leaving a room&quot to &quotHow important is the issue of Global warming to you?&quot The report produced exciting news 69% of the students involved in the survey agreed that ECSU made it easy to engage in a sustainable lifestyle.
Other Conference Highlights:
The multi-faceted conference also recognized HBCU's that stand out in the sustainable world. Special Assistant to the Chancellor, Mr. Robert Gaines, was asked to present the sustainability efforts that the campus has completed thus far. Post his presentation, he participated in a panel with other trailblazing &quotgreen&quot universities.
The conference also introduced this year's Toyota Green Initiative ambassadors. The students that will be representing ECSU in this national initiative are Brittini Piercy and Jalynne Gilchrist. Our Sustainability Director, Cassidy Cannon, had the honor of partnering with Howard University to conduct the training of the 27 schools for Toyota Green Initiative.
# # #
---