ECSU Students Take Home Best Presentation at National Conference
---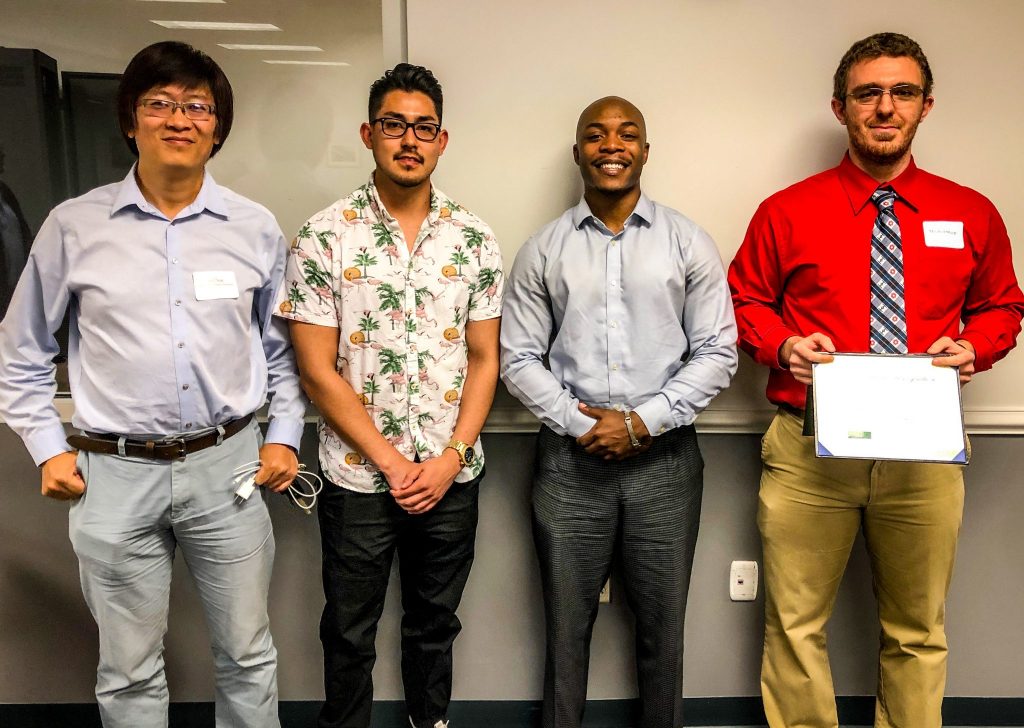 ECSU undergraduate and graduate student team consisting of, left to right, Dr. Lin Chen,  Eduardo Santos,  Brandon Baker,  and Mitchell Sheep took home the best presentation award at this year's national MSV Capstone Conference in Norfolk, Virginia.
On April 18, Elizabeth City State University students made waves at the annual MSV Student Capstone Conference. According to Dr. Lin Chen, a professor in the Department of Mathematics and Computer Science, three ECSU students presented their research in the area of medical simulation and came home with the best presentation award.
ECSU students Brandon Baker and Eduardo Santos, both biology graduate students, and Mitchell Sheep, a senior computer science student, entered the competition held at Old Dominion University in Norfolk, Virginia. According to Dr. Chen, the students' work not only merited best presentation, but also an invitation to MODISM World, a gathering of medical research professionals held on April 24 in Norfolk.
The MSV Student Capstone Conference featured students in Modeling, Simulation and Visualization (MSV) undergraduate and graduate degree programs, and fields from many colleges or universities. Students presented their research to an audience of fellow students, faculty, judges, and other guests.
For the students, these presentations afforded them the opportunity to share their research to members of the modeling and simulation community from academic, industry, and government backgrounds.
The MS&V Student Capstone Conference offered eight presentation tracks this year. Each track has two awards. The best paper and the best presentation, the latter awarded to the ECSU team.
The MODISM World event featured a Technology Showcase where leaders in the industry demonstrated the latest in MODSIM technologies. MODSIM World featured an agenda that included the presentation of papers and panels, industry workshops and competition events, as well as the exhibit floor featuring a variety of companies and organizations showcasing new advances in modeling and simulation.
---