ECSU Students Receive Charter for International Aviation Fraternity
---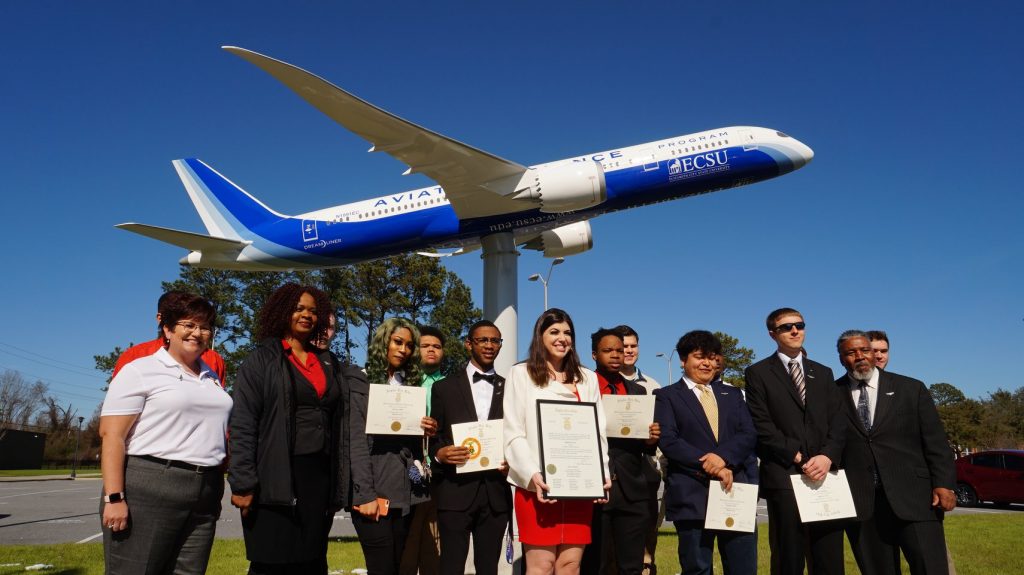 Twenty-two Elizabeth City State University students have been inducted into the collegiate aviation fraternity, Alpha Eta Rho, the oldest professional aviation fraternity in history.
According to Dr. Kuldeep Rawat, dean of the School of Science, Aviation, Health, and Technology, the ECSU Upsilon Zeta chapter of Alpha Eta Rho received its charter membership last month.
"It is the 45thchapter of this prestigious fraternity," said Dr. Rawat. "And it is the chapter that is priding itself as being the closest chapter to Kitty Hawk, North Carolina, the birthplace of powered flight."
Dr. Rawat said it was a student-led effort to join Alpha Eta Rho. Students, he said, have been working on receiving their charter for the past year.
Alpha Eta Rho was founded on April 10, 1920, at the University of Southern California. Since that time, the fraternity has granted charters to some of the most prestigious aviation colleges and universities throughout the world.
ECSU's charter members include: Ingrid Watts, president; Cameron Harmon, vice president; Zak Stewart, secretary; Jarret Moss, treasurer; Ron Thompson, historian; William Deaton; Phillip Dobbins; Alex Dominque; Jermonte Flemming; Armani Hope; Noah Hurdle; Mercedes Leacock; Israel Lopez; Jacob Miller; Shamale Norman; Adedayo Okusaga; Valeria Pacheco; Sophie Runyon; Eric Snipes; Tony Thompson; Nathaniel Walker; and General XO.
---