ECSU students earn round-trip travel package to science competition
Posted On August 30, 2010
---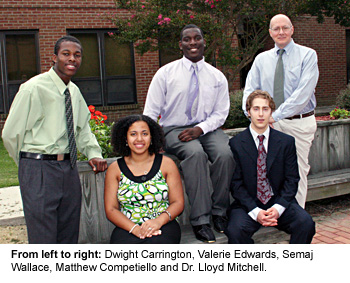 Dr. Lloyd Mitchell
August 30, 2010
Four ECSU students who presented their research at the ECSU Biannual Health Symposium as part of the Health Concepts class requirements were awarded full travel awards to present their work at the Society for the Advancement of Chicanos and Americans in Science (SACNAS) Conference, held September 28th – October 2nd in Anaheim, California.
Dwight Carrington, an elementary education major, Valerie Edwards, an aviation science major,&ampnbsp Semaj Wallace, a psychology major and Matthew Competiello, a political science major, will enter the conference competition along with approximately 500 students from across the country.
Dr. Lloyd Mitchell, their instructor, said it is exciting to see students take theoretical and conceptual knowledge learned in a freshman level health class and develop application techniques that make a positive difference in their health.
&quotThe students will document their progress through data collection, and utilize written and oral communication skills to present their results in a public symposium.&ampnbsp In doing so, students gain self-confidence, public speaking experience, and elevate themselves to a nationally competitive level,&quot Mitchell said. &quotWhether they win or place or not, the students will emerge stronger from their competitive experience.&quot
Each has an all-expenses-paid award which includes round-trip airfare, ground transportation, hotel, full conference registration, miscellaneous expenses, and a trip to Disneyland.&ampnbsp The value of total value of each award is approximately $2,500 bringing the total value to ECSU students to $7,500.
Lloyd Mitchell, an associate professor in the Department of Health and Physical Education, will accompany the students to this competition.
---