ECSU students compete at 2012 Honda Campus All-Star Challenge
---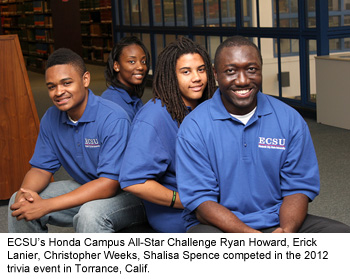 Kesha Williams
April 17, 2012
Four Elizabeth City State University students joined undergraduates from 48 Historically Black Colleges and Universities (HBCUs) in Torrance, Calif., to compete in the 2012 Honda Campus All-Star Challenge (HCASC), the only all-HBCU academic challenge.
The two-day competition took place April 1 and 2 and tested students' knowledge of history, science, literature, religion, the arts, social science and popular culture. The competition gave students a chance to win a share of the more than $300,000 in institutional grants awarded annually by Honda. It also was a battle for bragging rights as the nation's top academic HBCU.
ECSU's competitors were team captain, Christopher Weeks, a freshman from Durham, N.C., who is majoring in engineering technology Erick Lanier, a freshman from Goldsboro, N.C., who is majoring in aviation science Ryan Howard, a sophomore from Elizabeth City, N.C., who is majoring in sociology and Shalisa Spence, a senior from Elizabeth City, N.C., who is majoring in English.
While the ECSU team didn't win the highly sought prizes, they benefited tremendously from the experience. In addition to competing in the games, ECSU students networked with executives and employees from American Honda Motor Co. and students from other universities. The event schedule also included some amusement – a visit to Disneyland and a movie night.
American Honda's corporate headquarters in Torrance, which is located in Los Angeles County, was the venue for the final games. Students toured the company facilities, enjoyed a cookout and participated in a Honda 411 Career Fair. Derrick L. Wilkins, chairperson of ECSU's Department of General Studies and the team's coach and campus coordinator, said the trip was a wonderful experience.
&quotWe are fortunate to have had this opportunity to expose our students to academic competition as well as first-hand interaction with top-level corporate executives in a relaxed environment,&quot Wilkins said. &quotAmerican Honda Motor Company is to be commended for their 23-year commitment to this program that exposes students to so much. For one member of our team it was his first flight to California.&quot Wilkins concluded.
Spence, the only senior on the ECSU team, hopes other students will take advantage of the opportunity to compete in the future.
&quotI now harness a new respect for Honda. Seeing what they do each year for HBCUs was humbling. If anything, I wish I would have had this experience earlier in my college career,&quot Spence said. &quotIn fact, I'm quite regretful that I didn't pursue HCASC during my freshman or sophomore years at ECSU. I'm jealous of those of my teammates who will attend next year. I feel everyone should have that eye-opening experience. Thanks Honda!&quot
The 250 student competitors hailed from HBCUs located in Alabama, Georgia, Mississippi, North Carolina, Ohio, Pennsylvania, Illinois, South Carolina, Florida, Tennessee, Louisiana, New York, Kentucky, Missouri, Maryland, Oklahoma, Virginia, Texas, West Virginia, and Washington. The competitors were split into eight divisions and competed in a modified round-robin format. The top two teams from each division advanced to the &quotSweet 16&quot and competed in a single elimination playoff. The final two teams that emerge from the playoffs battled for the title of National Champions and the grand prize of $50,000.
This was the first time the event was held in the Los Angeles area on the campus of Honda, the event's sole corporate sponsor. Previous competitions were held in Orlando, Fla. Honda hopes to continue introducing students to the many career opportunities available in the automotive industry.
HCASC is one of Honda's largest and longest- running philanthropic initiatives in the United States. Throughout the competition's history, the program has touched more than 50,000 students and awarded more than $6 million in grants. In addition to providing students a venue for friendly competition, the program encourages relationship building, intellectual excellence and the development of values that define good character.
&quotIn 1989, the Honda Campus All-Star Challenge was created to highlight the great minds and talent present at our nation's Historically Black Colleges and Universities,&quot said Steve Morikawa, assistant vice president for corporate community relations with American Honda Motor Co. &quotToday, 23 years later, we at Honda are proud to still be a part of HCASC as it continues to exemplify HBCUs' academic excellence, enrich our nation's youth, and invest in one of the country's largest pipelines for professional, artistic and academic talent. We hope that by hosting the students on the campus of our national headquarters, we can expose and hopefully inspire them to consider a career in the automotive industry,&quot he said.
Steve Morikawa, assistant vice president, Corporate Community Relations, American Honda Motor Co.,
For more information on the Honda Campus All-Star Challenge and a list of the 48 participating HBCUs, visit www.hcasc.com/nct12/great48.asp.
---