ECSU Students are Ready to 'Take Back the Night' Thursday
Posted On October 16, 2018
---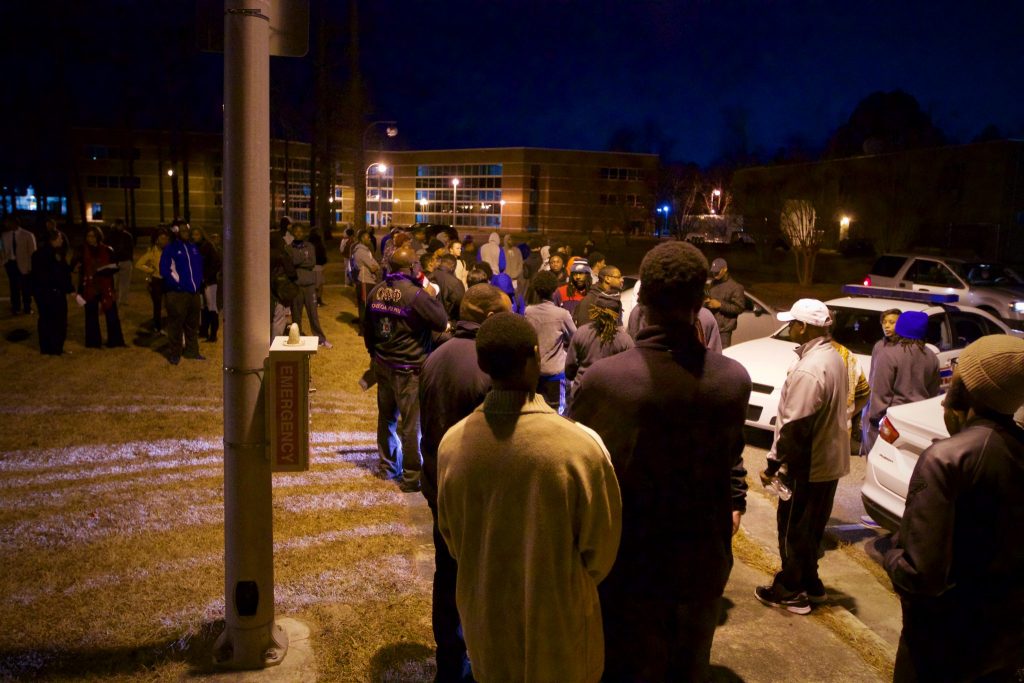 ECSU students participate in a campus safety walk last February. Thursday, Oct. 18, students will participate in Take Back the Night, a walk designed to encourage campus safety and sexual and domestic violence awareness.
Take Back the Night. That's what Dr. Crystal Terry, director of Elizabeth City State University's PACE Center wants student to do Thursday, Oct. 18. It's national campaign aiming to promote safety on campus during Domestic Violence Awareness Month.
"It focuses on sexual misconduct and domestic violence," said Dr. Terry.
Last April ECSU held a nighttime safety walk design to promote campus safety. Dr. Terry says Take Back the Night is a good way to tie the two events together.
Students will gather at the promenade at 6:30 p.m. From there they will join Dr. Terry and members of the ECSU campus police department, as well as representatives from Albemarle Hopeline, the domestic violence shelter and counselling service, for an hour-long walk.
"We will walk around and talk about ways to stay safe on campus," said Dr. Terry.
One of the key tools on campus, said Dr. Terry, is the blue light. Blue lights are strategically placed around campus in areas that might see less traffic. If a person finds herself in a situation where emergency assistance is required, Dr. Terry says they can hit the blue light button and campus police will be alerted to their position.
The walk will also include a few surprises, said Dr. Terry. She says she hopes those will include some self-defense demonstrations and possibly the use of the "drunk goggles."
Drunk goggles are used to simulate the drunk driving experience in hopes of discouraging the behavior. Dr. Terry says in the case of Take Back the Night, she would like students to experience the sensation of being intoxicated while walking so they understand the dangers involved there, too.
Students, says Dr. Terry, should also understand that while ECSU is a safe campus, and it's good to feel safe, it's also a good idea to travel across campus at night, in numbers.
"And you can always call the campus police to be helped, to get someone where if it's too late," she said.
Dr. Terry says the campus police are dedicated to ensuring student safety and that means working directly with students to prevent problems before they arise.
"In a nutshell we do have officers on campus that care enough to pick up a student and take them where they need to go so they won't be out by themselves on campus," said Dr. Terry.
Dr. Terry says students should meet at the Ridley Student Center near the promenade at 6:30 p.m., Thursday, and wear comfortable shoes.
---