ECSU Student Selected for Governor's HBCU Internship Program
---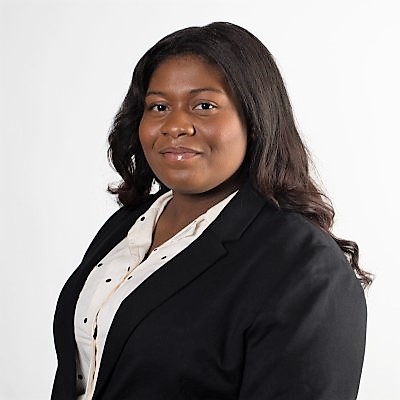 Tracy Dotse, an ECSU Senior majoring in Business Administration, was chosen to participate in the North Carolina Governor's Historically Black Colleges and Universities (HBCUs) Internship Program this summer. A total of 36 students from nine of the state's HBCUs were selected for this esteemed program.
"I am honored to participate in such an incredible program, and I couldn't be more grateful and proud," says Dotse.  "This experience has taught me the value of hard work, perseverance and resiliency. I received a number of rejections while applying for internships, but I utilized my family's support and encouragement, and reached out to the ECSU Career Center to adjust the process I was using. Career Center staff helped me create a professional resume and develop my interviewing skills. From there, I earned a spot in the HBCU NC Governor's Program."
The HBCU internship program began in 2015, and it connects students at the state's HBCUs with Fortune 500 companies in North Carolina.  Students gain valuable work experience and increase their competitiveness in the job market, while businesses benefit by accessing an untapped, diverse talent pool. Studies show that seven in 10 internships result in full-time work. In 2021, ECSU made a campus-wide commitment to graduate career-ready students through the five-year Quality Enhancement Plan  (QEP) – Pathways to Careers.
Dotse is interning at Red Hat, a software company in Raleigh that offers cloud and computing, infrastructure, integration, application development, and automation and management services. Increasing the number of competitive internships secured by ECSU students is one for the major goals of the current QEP.
"My experience has been very informative and educational. I love Red Hat's culture of support, respect, friendliness, and inclusion. My manager pushes me to be my best self, and my team is small but mighty," added Dotse.
North Carolina is home to 13% of the nation's HBCUs, including five in the UNC system. All five of those public HBCUs — Elizabeth City State University, Fayetteville State University, North Carolina Agricultural and Technical State University, North Carolina Central University and Winston-Salem State University — are participating in the program. The UNC System Office serves as the oversight agency for the program, with primary responsibilities for budget oversight, compliance, assessment and reporting.
"We are fortunate that North Carolina is home to so many excellent HBCUs," said UNC System President Peter Hans. "Our world-class graduates are ready to put their skills into action, contributing to a thriving economy and bolstering North Carolina's industry. My thanks to business leaders for welcoming and developing this diverse array of talent to serve a growing state."
The summer internships are paid, full-time positions for rising juniors or seniors who have a minimum cumulative grade point average of 2.8 and are active in student and national organizations.
---