ECSU Student Selected for Coast Guard CSPI Scholarship Program
Posted On February 28, 2020
---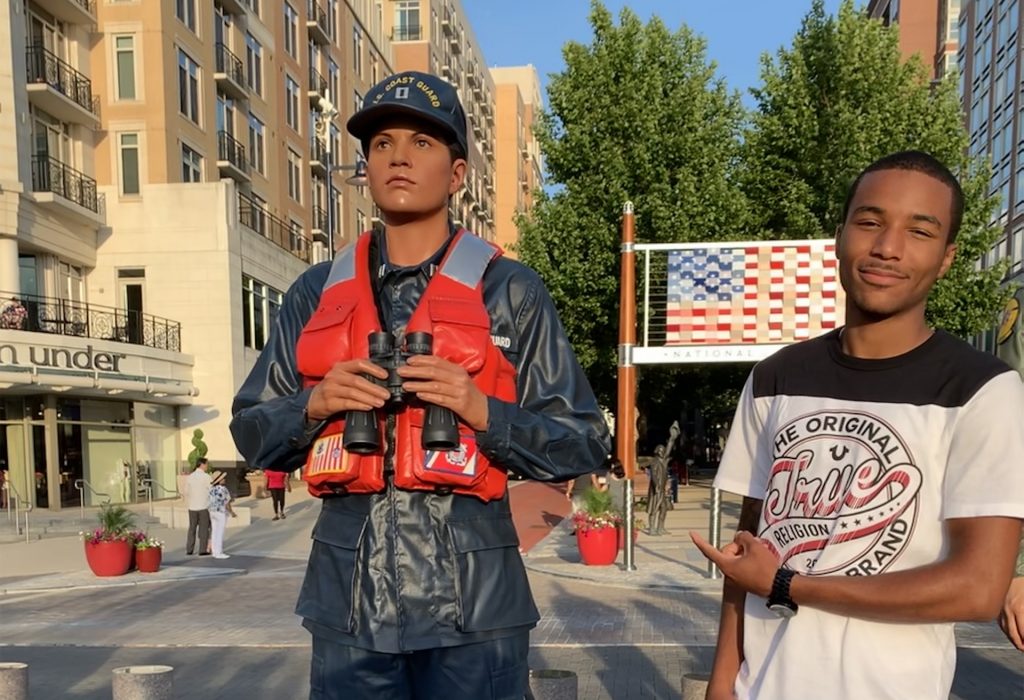 Elizabeth City State University sophomore, Nomar Proctor, has been selected to join the United States Coast Guard's College Student Pre-Commissioning Initiative scholarship program.
"The Coast Guard in general, and I as the ECSU champion specifically, are thrilled to have Nomar Proctor as the selectee to the Coast Guard's CSPI program," Rear Adm. Keith Smith, commander, Fifth Coast Guard District said. "After rigorous committee review, and in close coordination with Chancellor Dixon, it was clear that the competition was fierce and in the end, I believe Mr. Proctor has the highest level of skills, talents, and motivation to become a successful career officer in our amazing sea-going service."
Proctor, a native of Prince George's County, Maryland, looks forward to the benefits that come with this program while he is at ECSU and after graduation. One of those benefits will be finishing his degree debt free with a guaranteed career as an officer in the U.S. Coast Guard.
"Being able to take a great step towards my future by achieving this goal is an inexpressible feeling. I worked hard to get here, and I know that I am reaping the fruits of my labor," Proctor said. "It is a true honor to be accepted into the CSPI program, and I am more than grateful for my position."
Proctor's major is Unmanned Aircraft Systems, and he is the Marketing and Special Events Chair of the Campus Activities Board. As a student leader, he looks forward to being in a position to promote this underrepresented program on ECSU's campus.
"As a student leader, I will make it my duty to inform our students about the CSPI program and the United States Coast Guard in general," Proctor states. "Whether I bring awareness by setting up a CSPI table in the cafeteria or through casual conversation from day-to-day encounters, I will make it happen. That is my future."
ECSU Alumnus and USCG Commander Warren D. Judge met Proctor through the president of the ECSU DC Metro Alumni Chapter, Tony Swain, when he was a high school student visiting ECSU during an Open House event.
"Mr. Proctor was highly interested in the Coast Guard's CSPI program then and to see him get accepted into the program is amazing," Commander Judge said. "It is refreshing to see a young man set and follow through on his goals; together ECSU and the Coast Guard are changing lives – they changed mine!"
In February 2019, ECSU and USCG signed a memorandum of agreement to strengthen the relationship of the two organizations. The following September, ECSU hosted the second annual U.S. Coast Guard-Historic Black College and University Training & Leadership Summit.
"I am proud of the collaboration between ECSU and the Coast Guard. From Aviation to Emergency Management, our two organizations are working together to benefit our students, the Coast Guard and the Elizabeth City community," Chancellor Karrie G. Dixon said. "I commend Nomar on being selected to the USCG CSPI program. He has a bright future and will make an excellent officer in the Coast Guard."
Proctor learned about the Coast Guard his junior year of high school and decided to pursue it from that point on.
"I have faced challenges along the way, but I persevered towards accomplishing my goals," Proctor said. "Getting into CSPI is only the beginning; I must remain humble and willing to grow in order to be successful in life. For anyone who reads this, never stop chasing your dreams! If you work hard now and make the right sacrifices, it will be all worth it in the end."
The CSPI program gives eligible students an opportunity to join the Coast Guard and receive two years of tuition, fees, and books as well as a salary and insurance.
---