ECSU Student Leadership Working to Keep Campus engaged in a Virtual, COVID-19 World
Posted On August 11, 2020
---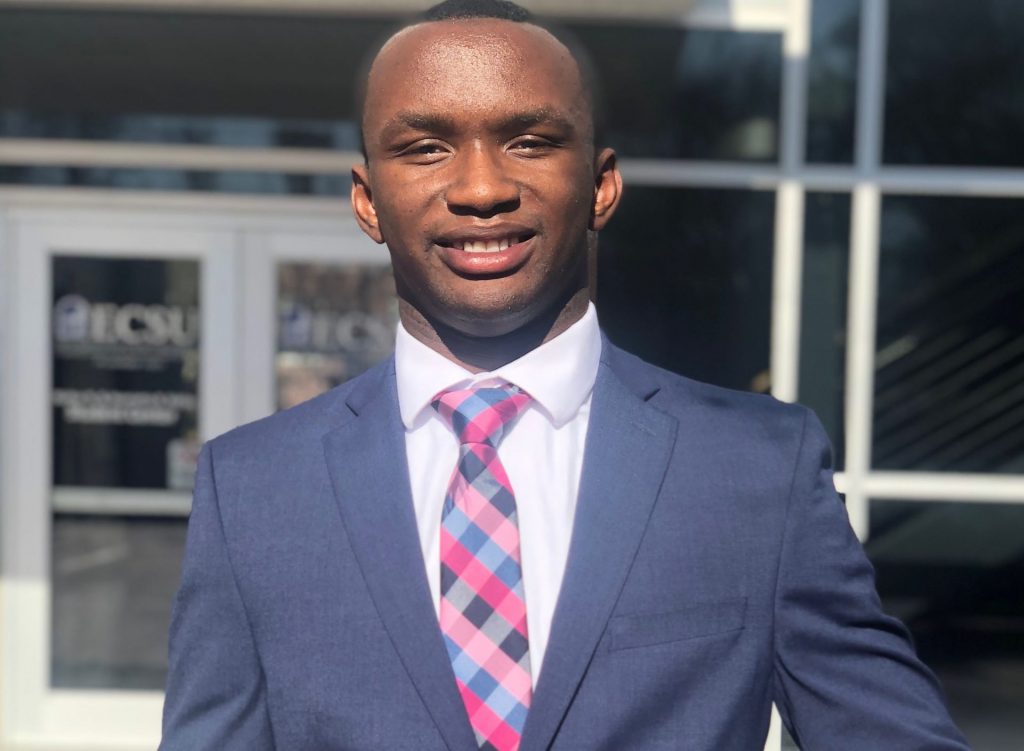 Jimmy Chambers, Jr., the SGA president, says student leadership is working to not only help students stay safe during the pandemic, but also engaged.
Life on the campus of Elizabeth City State University has changed since students were sent home last March amidst concerns over the COVID-19 pandemic. However, as Vikings return to campus, and students are adjusting to their classes and new safety protocols, student leaders have been busy planning for what Student Government Association president, Jimmy Chambers, Jr., says is an effort to bring a sense of normalcy to an otherwise abnormal situation, providing leadership and student activities. 
"Keeping students engaged is the key," said Mr. Chambers. "You don't want them to just be sitting in their rooms. You have to keep them engaged."
While ECSU administrative staff has spent the past summer preparing for a return to campus, and outlining protocols designed to keep students safe, it is now up to student leadership to be an example and guide Vikings through these unprecedented times.
ECSU launched the Viking Compass webpage, outlining safety protocols such as wearing masks, social distancing and other safety requirements designed to combat the spread of the COVID-19 virus. Mr. Chambers and his fellow SGA officers are working on leading the way, setting examples and reinforcing the importance of safety on campus.
"The message I want to get across is that I understand that you want to hang out and do these normal things, but you can't do that," said Mr. Chambers. "We must take these safety measures seriously to get back to that."
Getting back to normal across campus would mean in-person activities. It would mean all of the activities outside of the classroom would be in full swing, keeping students engaged across campus.
But Viking football has been postponed and subsequently, homecoming celebrations have been cancelled. Student events that call for mass gatherings across the campus have been cancelled as well, and they are being substituted with virtual activities, says Mr. Chambers.
That's where the ECSU Campus Activity Board, or CAB, comes into the picture. CAB president, Josiah Burnett, says the board has a number of events in the works, and their planning will evolve as the semester moves forward.
"Right now, we are trying to make do and give everybody as many virtual events as possible," said Mr. Burnett. "We want to give everybody an experience as close as possible to what they would have had."
Currently some of the events, such as bingo night, are being held via Zoom videoconferencing technology, he said. CAB is also looking into the possibility of holding a concert, also using Zoom.
Other potential events include a drive-in movie night – social distanced lawn seating or watching from vehicles – and possibly food trucks.
"It's a real challenge," he said, "but we're doing our best."
While planning and leadership are ongoing, students can do their part. Mr. Burnett says students need to download the Viking Engage app to keep up with events and other campus information.
He also said CAB is currently testing the Scavify app. It is another tool to help keep students engaged on campus.
"It helps you learn the campus and gives you things to do," said Mr. Burnett. "You can do a virtual scavenger hunt and get points for finding items, or complete games and get prizes."
Meanwhile, the SGA and Mr. Chambers will continue working with students, leading the way through a safe semester. Mr. Chambers says currently he is working with freshmen on getting acquainted with the safety protocol and the SGA will continue to look for ways to engage students, and to lead them through what is arguably unchartered territory.
"We have to approach things differently," he said.
Mr. Chambers also encourages students to reach out to the SGA, ask questions and make suggestions.
"I want the students to know that if they have issues, or any concerns, to reach out to a member of the SGA board," he said. "We love advocating for students."
---