ECSU strengthens ties with community colleges
Posted On February 21, 2011
---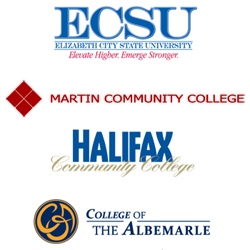 Kesha Williams
February 21, 2011
Elizabeth City State University welcomed representatives from three community colleges to the campus on February 16, 2011: College of the Albemarle, Halifax Community College and Martin Community College for an articulation agreement workshop.
LuAnn Riddick, the articulation coordinator for ECSU and teacher prep liaison, welcomed the guests to a series of morning sessions, indicating the importance of partnerships between the institutions. The mission was to solidify the on-going commitment ECSU has made to college transfer programs and to maintain close relationships with area community college partners. ECSU currently has articulation agreements with the College of the Albemarle and Halifax Community College. The goal is to make an easy transition for their students from the community college to ECSU where they will pursue a BS degree. ECSU is in the process of complete articulation agreements Martin Community College and with several other area community colleges.
&quotThe focus of the afternoon sessions was to develop selected major curriculum student transfer check sheets that will assist advisors who guide students that plan to transfer from HCC to ECSU,&quot Riddick said. &quotCommunity colleges have seen an increase in enrollment as people change careers or continue their education during this tough economy. In order to help those students make a smooth transition from the community college to the university, it's important that we all meet to discuss how we can better educate North Carolina's students.&quot
ECSU Chancellor Gilchrist welcomed the guests and said it only makes sense that these institutions meet and work together for a common purpose.
&quotSome people might think that the university and community colleges are competing for students but we are not,&quot Gilchrist said. &quotSome students leave high school ready for a four-year degree program but others may only feel they can only commit to a two-year degree program. At ECSU, it's our mission to have several articulation agreements in place so we can help the students transfer their credits, no matter which community college they came from.&quot
---