ECSU Staff Discuss Chancellor Search at Second Forum
Posted On August 28, 2018
---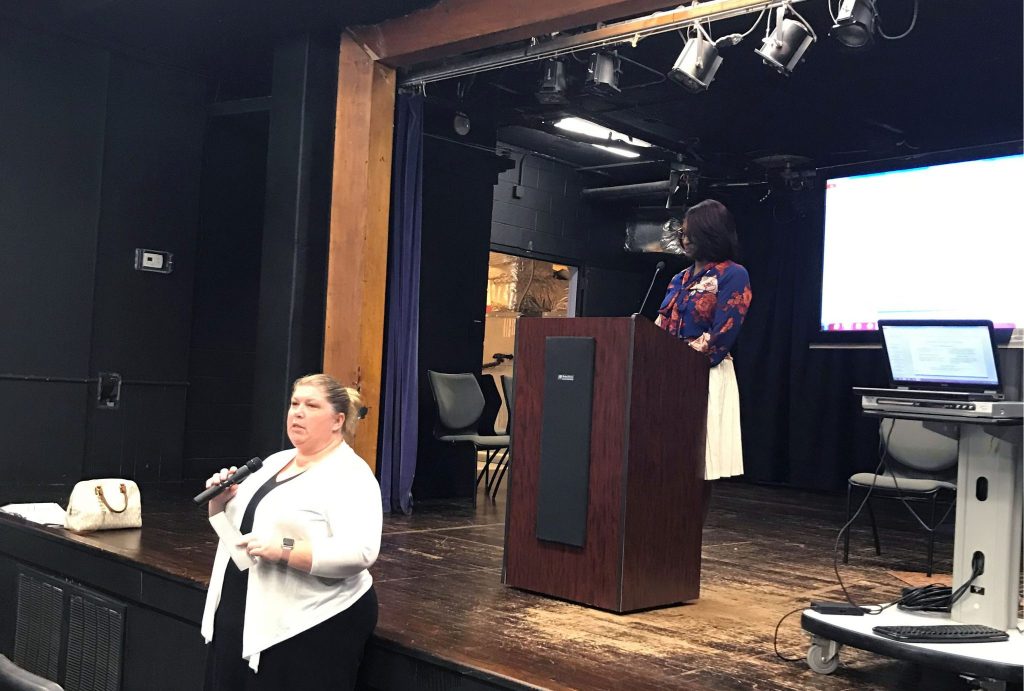 Deanna Byrum, a member of the Academic Affairs administrative team, addresses the room at the recent chancellors search staff forum. This was the second staff forum.
Integrity and teamwork were the central themes as Elizabeth City State University staff members took turns sharing their thoughts on the characteristics of the next chancellor.
Tuesday at 10 a.m., in the G.R. Little Theater, staff members gathered for their second forum to discuss the search process and address several key questions. The questions were designed to spur discussion over the qualities the university staff members hope to see in the next ECSU chief officer.
The questions presented at the head of the forum were:
What characteristics, skills, and leadership style would you like to see in our next Chancellor? What background and experiences do you see as essential including educational credentials, administrative experience?
What are the top priorities of the position and what should the next Chancellor emphasize during their first two years?
What are the current strengths or "points of pride" of Elizabeth City State University, and what do you see as challenges or opportunities for improvement?
What other considerations should the committee have moving forward with our search for a new Chancellor?
Pernell Bartlett, who was a member of the last chancellor's search committee in 2014, said integrity is one of the top characteristics needed for ECSU's next leader.
"We need to do soul searching about where we are, where we want to be," he said.
Bartlett also focused on team building. He said as society changes, "We need to change."
"I think together we need to make a change to this campus," said Bartlett. "It has to be a team effort."
Bartlett wasn't the only one to call for a leader who can lead a team. Liz Linney has worked at ECSU for 25 years and she says the university needs a leader with previous experience operating a campus, and one who can also lead a team.
"We need to be a team," she said.
Likewise, Deanna Byrum wants to encourage more teamwork. She sees a team effort, but there is more to be done, she said.
"We are all important," she said. "We are all here for one reason, to train up the next generation."
Byrum also cited a need for the next ECSU chief to understand the region, and know what it means to have first generation college students come to campus. The chancellor needs to lead the campus in an effort to take time with these students and their families.
The next chancellor, she said, "needs to be community oriented," and "put politics to the side and do what's best for ECSU."
Rosa Adams, who has worked on campus since 2009, said she hopes ECSU finds a leader who can "show value in the staff."
"You have to value what's here," she said.
A second faculty forum was also planned for Tuesday, and the first Elizabeth City community forum is planned for Wednesday, Aug. 29 in the training room of the Hugh Cale Building on South Road Street near the CVS pharmacy.
---