ECSU Sound of Class Marching Band Members Participate in Intercollegiate Virtual Halftime Show
Posted On January 12, 2021
---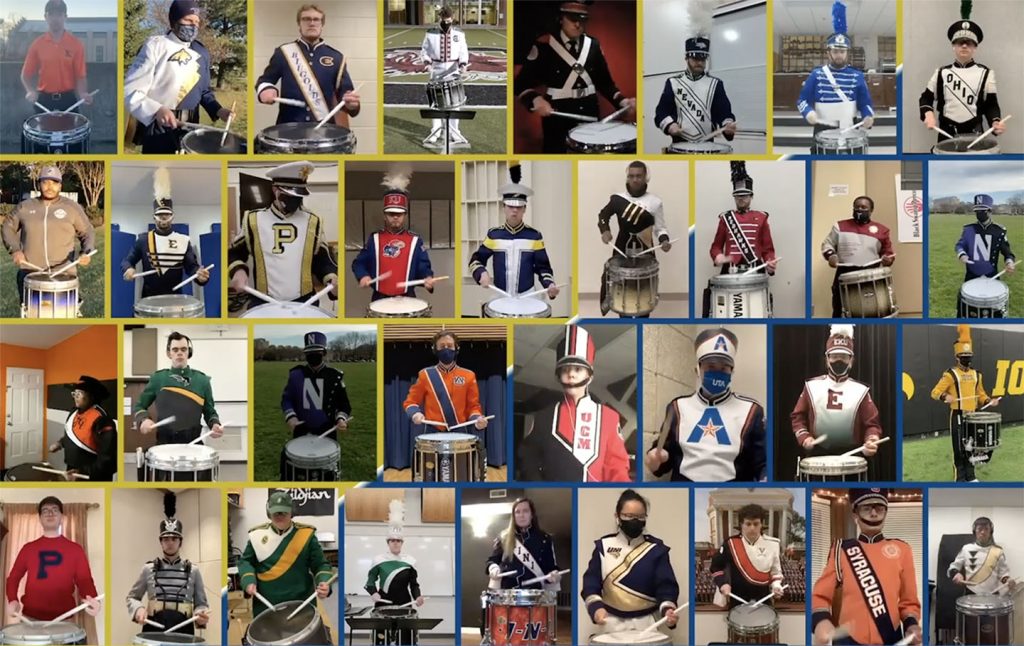 Sound of Class Marching Band percussionist, Isaac Lister, second row – far left, was one of six ECSU students participating in the virtual College Football Playoff National Championship halftime show on Jan. 11.
When the College Band Directors National Association (CBDNA) Intercollegiate Marching Band pulled together 1,500 band members from 200 schools across the nation, Elizabeth City State University Sound of Class Marching Band was there for a virtual performance.
According to band director Juliet Boykins, six ECSU students participated in the CBDNA performance that took place during the College Football Playoff National Championship halftime show on Jan. 11. The virtual marching band performed Beyoncé's "End of Time."
Dancers Kyra Purvis, Tajahnae Brown, Nakiyah Taylor, Deja Scott, Kaulin Barnes, and percussionist Isaac Lister joined the national performance, broadcast on the CBDNA YouTube channel.
"Our students worked extremely hard to be a part of this feature by dedicating their own time," said Ms. Boykins. "I am so proud of our students and the extra time they gave up participating in such a meaningful moment."
Students from ECSU and other universities performed their parts virtually and the results were edited together to create an entertaining online moment. From the dancers to the musicians, to the drum majors, the performance was dominated by the same excitement seen on the football field during halftime.
The event was produced by GPG Music. GPG Music director of public relations, Aaron Hines, along with other members of the production team, introduce the performance, highlighting the fact that "no matter the size, style, conference, or division" of the bands, "over the last nine months the college band community came together to support one another like never before."
GPG Music provides award-winning pageantry music and design for marching bands, inspirational concert music, and music for percussion.
Ms. Boykins said ECSU students had the opportunity to meet and speak with band students from across the country as a result of participating in the virtual performance.
To view the performance, click HERE.
---