ECSU Sets Out to Educate Latino Community
---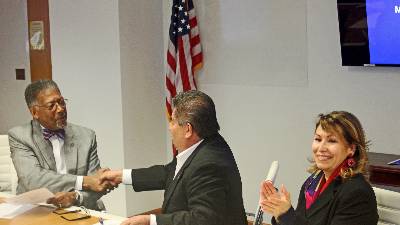 Elizabeth City State University reached across international lines Tuesday March 07 2017 when it signed a memorandum of understanding with the Association of Mexicans in North Carolina Inc. (AMEXCAN) detailing a partnership to provide higher education to members of the Northeast North Carolina Latino community.
"This is the recognition of an obligation to a part of our community in North Carolina for a long time" said ECSU Chancellor Thomas Conway during the signing the ceremony. "The university is committed to serving all of our communities."
Present at the signing was AMEXCAN executive director Juvencio Rocha-Peralta and Mexico's Consulate-General to North Carolina Remedios Gomez Arnau as well as a number of university officials and area advocates for the Latino community.
According to ECSU's special projects director Russ Haddad 17 percent of the area's population is Latino. That he said is according to the 2010 U.S. Census.
"The university is here to become a greater resource to the community that it serves in this case the Latino community" Haddad said of the MOU.
According to the MOU the partnership between AMEXCAN and ECSU begins a collaboration to improve education and "reduce disparities among Latinos in Eastern North Carolina."
"AMEXCAN and ECSU herein agree to work collaboratively to achieve our mutual goal of improving Latino education and reducing Latino education disparities in Eastern North Carolina by increasing its outreach and accessibility to the Latino Community" the MOU states.
ECSU and AMEXCAN will work together to help bring higher education to the Latino community by assisting with grant proposals for funding educated-related programs as well as a number of in-kind services such as space for programs expert speakers and more.
AMEXCAN will assist with expert consultation on programs for the Latino community advice on promoting programs and assist with obtaining participants for ECSU programs.
AMEXCAN is a non-profit organization founded in 2001 to improve the lives of Latinos in North Carolina.
---