ECSU Says Goodbye To Symera Hall
---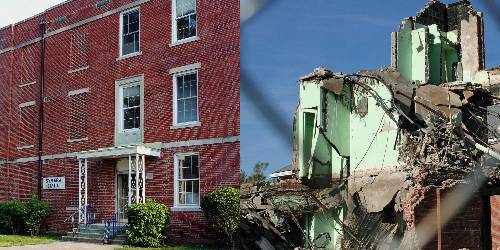 The Elizabeth City State University community is saying goodbye to Symera Hall. Saturday April 8 during Spring Open House a number of alums recalled the days when they were students residing in Symera when it served as a residence hall.
On that Saturday the building could be seen from the road as demolition moved forward bringing it down brick by brick.
Symera erected in 1912 was a three-story building believed to be the second oldest campus structure. Originally for women students its normal capacity was 99 people before going out of service.
The building was rebuilt in 1949 following destruction by a hurricane. After that Symera Hall would undergo several renovations.
Because of Symera Hall's reconstruction and subsequent renovations it did not qualify to be included in the National Historic Register with other campus buildings such as Moore and Lane Halls.
Symera and Lane Halls were connected by a small area formerly known as the "Captain's Cabin" then a faculty dining area. The building is named for Symera Raynor Moore (1860-1922) wife of the first president of the institution Peter W. Moore.
Although many alumni have mourned the demolition of the building the cost of renovation would have far exceeded the benefit of repair. In addition to a full renovation the building would have required significant asbestos abatement.
---