ECSU Says a Fond Farewell to Chancellor Conway
---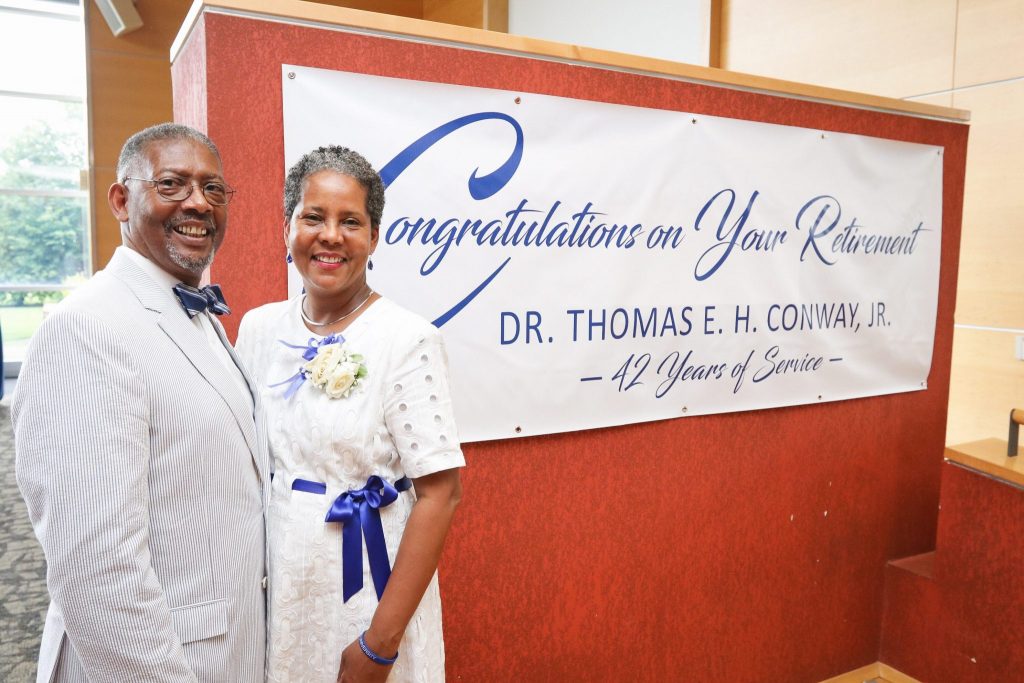 Chancellor Thomas E.H. Conway, Jr., along with his wife Mychele, were honored Wednesday, May 30, on the occasion of his retirement after 42 years of service to the UNC System.
The first floor of the Ridley Student Center on Wednesday, May 30, was packed with well-wishers from students, to faculty and staff, to members of the Elizabeth City community. It was a bittersweet moment for many, saying goodbye to Chancellor Thomas E.H. Conway, Jr.
"We want to thank you for touching the lives of so many people," said Human Resources' Tanisha Brumsey as she opened the retirement reception for Dr. Conway.
It's been 45 years in the making, the retirement of Dr. Conway. For three years he worked in North Carolina public schools as a counselor, and would move onto a successful 42-year career for the University of North Carolina System, including the past two and a half years at Elizabeth City State University's 11th Chief Executive Officer, and sixth chancellor.
In 2016, Dr. Conway became ECSU's chancellor, and although his time on campus was short, many people agreed, he's made a significant impact.
"Thank you. You came to this university at a time when we needed you," said ECSU Board of Trustees vice chairman, Harold Barnes.
James Cherry, the chairman of the ECSU National Alumni Association, said when Dr. Conway took office, "It was a time of chaos."
"You took it upon yourself to dig down, dig your heels in and right the ship," said Cherry.
When Dr. Conway joined the ECSU Viking family as its chief officer, enrollment numbers were down, and much of the infrastructure and business of the university was in need of redirection. Many well-wishers at Wednesday's event recognized that it was Dr. Conway who set the stage for an ECSU comeback that is currently enjoying enrollment growth and new initiatives to raise the profile of the institution.
"Of all the superheroes we've known, you are among the top on our list," said Dr. Jeanette Evans, current chair of the ECSU Foundation Board of Directors.
During his time at ECSU, Dr. Conway has worked closely with the UNC System to bring to point the university in a new direction. He was chaired two work groups comprised of university and system officials, responsible for setting a new foundation for the future of the institution.
But after 45 years as an educator, Dr. Conway said back in February that it was time to retire. It is time, he said, for the next chapter in his life.
On Friday, June 1, Dr. Conway officially hands the leadership mantle to Interim Chancellor Karrie Dixon. Dr. Dixon, who has been working with Dr. Conway on transitioning to her new role, has known him since she was a student at North Carolina State University.
During his time at N.C. State, Dr. Conway was known to students as a wise counselor, she said. So she sought him out.
"We wanted to hear his wisdom," said Dr. Dixon. "And he was not hesitant to share it with us."
Dr. Dixon said as she evolved through her career as an academic, and as a UNC System administrator, Dr. Conway was her mentor. She has, she said, benefited from his experience and guidance over the years.
For his part, Dr. Conway told the large crowd that the university is in good hands with Dr. Karrie Dixon. But he also implored everyone in the room to realize that the future of ECSU is also in their hands.
"You have to carry this university forward," said Dr. Conway. "Everyone involved that has a role at ECSU has a special commission at this point. It is your commission to move ECSU forward."
Dr. Conway reflected on the history of ECSU, and the significance of its founding. It was, he said, "born of hard times." There were, and still are, "a large number of people here that needed higher education."
And now, as the work he has done carries forward and a new ECSU administration picks up the mantle, Dr. Conway said it's time for a new chapter in the university's history.
"We are seeing a commencement of the next level of growth," he said.
Dr. Conway says that he and his wife, former ECSU First Lady Mychele Conway, have decided to remain in Elizabeth City. After a break, they will, he said, become involved in the community. There is, Conway said, plenty of work to be done here.
---