ECSU ROTC Cadets Commissioned as U.S. Army Officers
Posted On December 9, 2016
---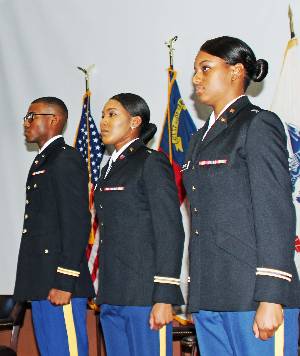 Three Elizabeth City State University Military Science students are now second lieutenants in the United States Army.
On Friday, Dec. 09, 2016, one day before the December 2017 ECSU Commencement, seniors Demetrius Lamar Adams, Timmay Janenell Beale, and Janae Chasity Elder were commissioned as officers in the U.S. Army before a crowd of family, friends, faculty, and military officers.
The ceremony's guest speaker was Brig. Gen. R. Scott Dingle. Speaking to the crowd, and addressing the newly commissioned officers directly, Dingle spoke of the commitment of family, of school, hard work and leadership.
"Without you," he said, addressing family members, "they would not have achieved what they are achieving today."
Family, Dingle said, helped build these young officers into leaders.
"They are getting ready to lead men and women," he said.
Dingle said the new officers have spent the past four years as ECSU students, working hard to become military officers.
"All that hard work was worth it because today you are going to be second lieutenants in the United States Army," said Dingle.
Dingle said that from "day one, you are automatically in charge." These three young officers, he said, are the leaders that men and women in the military will look to for answers.
They will, he said, be tested and challenged.
"That's part of being a soldier in the United States Army," said Dingle.
After Dingle's speech, the students took their oaths and officially became officers. Their insignia bars were appended to their uniforms by family and friends.
Each officer then received the ceremonial first salute and offered a few words of thanks to family, friends, and faculty.
Demetrius Adams is from Gatesville, North Carolina. He majored in engineering and will be assigned to the Army's signal corps.
Timmay Beale is from Hampton, Virginia. She majored in business administration and will be assigned to the adjutant general corps.
Janae Elder is from Pikesville, Maryland. She majored in biology and will be assigned to the chemical corps.
All three student officers are December 2017 ECSU graduates.
---