ECSU ROTC Cadet Nyla Harris Awarded U.S. Army's Highest Cadet Honor, the George C. Marshall Award
---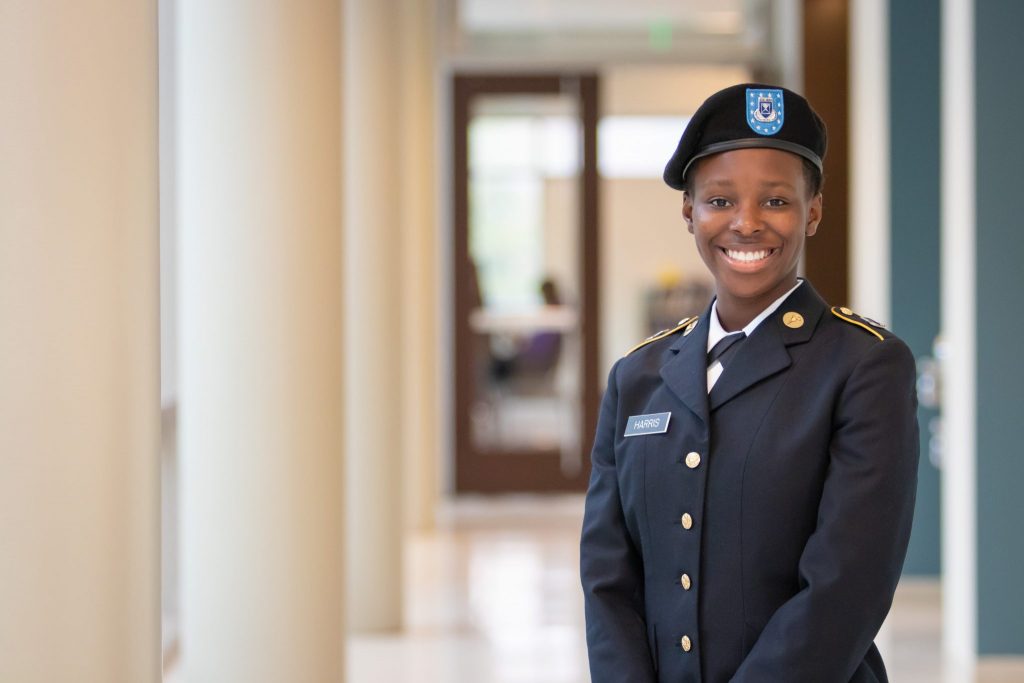 Elizabeth City State University ROTC cadet, Nyla Harris, has earned the U.S. Army's top cadet award, the 2021 U.S. Army Cadet Command George C. Marshall Award.
Cadet Harris attended the Marshall Award's Leadership Seminar virtually in February where she received the award. Each year, the top Army ROTC cadet from every college-level unit is honored with the award and invited to attend the seminar.
"This award is a humbling honor to receive. After serving four consecutive years in the ROTC Program, it definitely pays off to receive such a distinguished honor," said Cadet Harris, a senior who will receive her officer's commission and graduate in May. "I've contributed a lot of time and hard work to the ECSU ROTC Program by thorough planning, acting on great ideas offered by Cadets and Cadre and by managing my time to make ROTC my top priority."
She says she chose to join the Army ROTC because she was inspired by her uncle who commissioned as a second lieutenant from NC A&T State University. 
'As a child, I admired him when I was able to see the impact he had on our family and local community when he visited our hometown in Camden," she said. "I'm proud to follow in his footsteps to join such an honorable profession."
Cadet Harris is a Camden, North Carolina native – near Elizabeth City – who grew up around the ECSU campus. Her mother worked in Academic Affairs and Harris spent afternoons on the third floor of the Thorpe Administration building.
Having grown up around ECSU and in her hometown, Cadet Harris says she had the desire to leave home for her education, but finally made the decision to be a Viking. She says it was the right decision and now, so many years later, upon graduation she will leave ECSU with bars on her shoulders, a U.S. Army officer.
The biology (pre-dentistry) major will continue her professional studies while serving as an Army officer. She says she looks forward to one day becoming an orthodontist.
Cadet Harris has been an active member of the Viking family with a long list of activities and honors. These include serving as the Chancellor's Ambassador, a tutor, with the Student Government Association, and becoming a Thurgood Marshall College Fund Scholar.
Harris, who is also an Honors Program student, understands the value of ECSU. She recognizes its impact on her life and encourages future students to take advantage of the family-oriented campus.
"ECSU is a family-oriented school with one-on-one opportunities to talk to your professors and administrators on campus," she said.
The George C. Marshall Award is named for Gen. Marshall who served as the Army Chief of Staff during World War II and as Secretary of State under President Harry S. Truman. During his time as Secretary of State, he developed the Marshall Plan, an economic program that helped turn the tide of communism in post-World War II Western Europe.
---