ECSU Roanoke-Chowan Community College Partner on Criminal Justice Social Work Degree Programs
Posted On September 30, 2016
---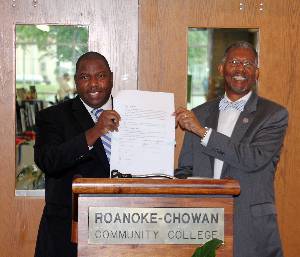 AHOSKIE NORTH CAROLINA – Elizabeth City State University and Roanoke-Chowan Community College (RCCC) have signed an agreement that will provide students in the Ahoskie area region the chance to earn a bachelor's degree in criminal justice or social work.
On Thursday September 29 2016 ECSU Chancellor Thomas Conway traveled to RCCC in Ahoskie to sign a Memorandum of Understanding between the two institutions. Chancellor Conway joined RCCC President Jimmy Tate to sign the MOU and usher in a new opportunity for mutual cooperation in an effort to educate future leaders in Northeast North Carolina.
"This is a big day for ECSU" said Chancellor Conway addressing a room packed with an estimated 30 staff faculty and guests. "We want everybody to know we are opening a pipeline between RCCC and ECSU."
That pipeline is a bi-lateral agreement giving students in the Ahoskie area the opportunity to earn an associate's degree in either criminal justice or social work. Students at RCCC will then move on to earning a bachelor's degree in those disciplines from ECSU while remaining on site at home
"We are part of the community" said Chancellor Conway. "I am extremely proud to join with leaders like Jimmy Tate to make this a reality for this community."
ECSU Provost Vann Newkirk noted that this agreement with RCCC will "expand affordable education to this region."
"Also jobs" said Provost Newkirk. "When you train people in a region they stay in that region."
Provost Newkirk said one of the advantages of the agreement is that it offers smaller class sizes. Small class sizes allow for more one-on-one time between the instructor and student he said.
Letita Harris is a mother of ECSU senior Brittney Ruffy. She is also an RCCC student. Harris spoke to the crowd expressing her gratitude to the RCCC faculty for making her education possible. As a working adult RCCC she said has worked with her to assist her when scheduling conflicts between her full time job and classes arises.
That sort of cooperation she said will make it possible for her to continue with her education in criminal justice earning a bachelor's degree from ECSU while continuing to attend classes on the RCCC campus.
This is the second such agreement signed by ECSU in the past two weeks. On Sept. 20 a similar agreement was signed with Halifax Community College in Weldon.
Both the HCC and the RCCCC programs are pending SACSCOC approval.
---