ECSU Registers Highest Student Count in Eight Years
Posted On August 30, 2022
---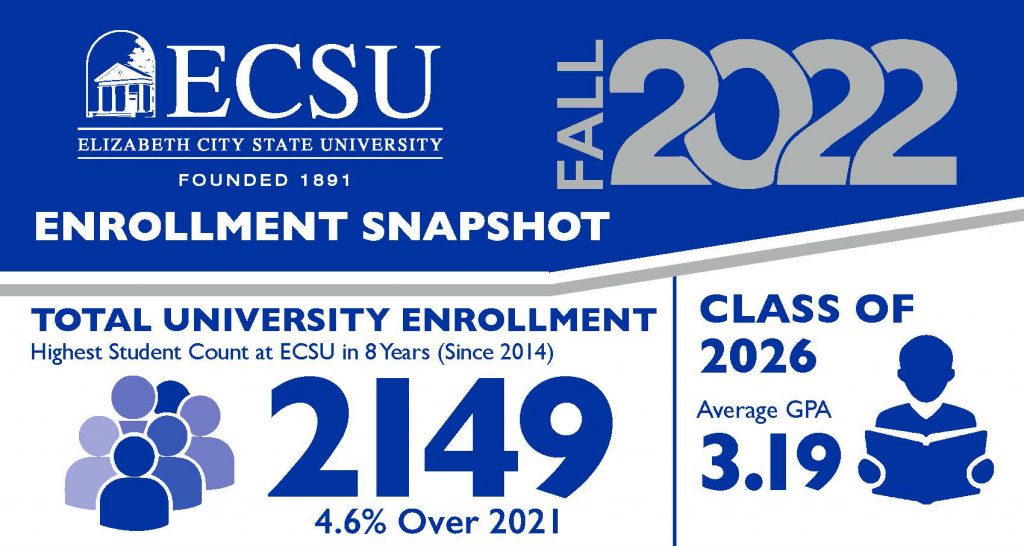 Enrollment Grows by More than 52 Percent Over the Last Five Consecutive Years
Elizabeth City State University (ECSU)'s student population increased by 4.6% from the 2022 to 2023 academic year, recording growth in nearly every student category. The university registered its overall total enrollment for FY23 at 2,149, representing the highest student count at ECSU in eight years. ECSU attributes the increase over FY22 enrollment to new, transfer, returning, continuing, adult learners and graduate students. 
For the fall 2022 semester, there are 573 new first-time freshman and transfer students. The increase is the fifth consecutive year ECSU had a major yield in recruiting and enrolling in-state and out-of-state first-time freshmen, as well as transfer, returning and graduate students. Sixty-five percent of first-year students hail from North Carolina, with the highest percentage coming from Pasquotank, Wake, Mecklenburg, Halifax, Forsyth and Pitt counties. First-year, out-of-state students represent the Mid-Atlantic, South and Midwest, including Virginia, Maryland, Florida, the District of Columbia and Texas.  
Additionally, graduate student admission rose to 116 students, the largest number of students in the past decade, and represents a 20% increase over 2021 alone.  
"ECSU's steady expansion in key demographic populations proves that the power of NC Promise tuition program is helping us reach more scholars who desire to earn a highly competitive degree at an affordable cost," says Dr. Karrie G. Dixon, ECSU Chancellor. "We are welcoming highly gifted scholars who possess strong academic credentials and are laser focused on their collegiate success. We are also attracting students looking to continue and complete their education, which leads to economic mobility for our graduates locally, regionally and in North Carolina."  
Dixon continues, "I applaud our dedicated faculty and staff for their hard work in engaging prospective students to enroll at ECSU and ensuring that A.C.E.—Accountability, Commitment and Excellence—remain the guideposts for all our Vikings." Twin sisters Chava' and Chaya Houghtaling, age 18, are first-generation ECSU freshman students who are Chancellor's Scholars. Both earned the merit-based, fully funded, four-year scholarship that covers tuition, student fees, university housing, meals and textbooks.  
They originally hail from Michigan and completed their secondary education at Pasquotank County High School. Both look forward to fulfilling their career goals in the next four years. 
"I am grateful to have selected ECSU," states Chaya. "I chose to major in psychology because helping people is at the forefront of what I want to do and what I know my purpose is. With my degree, I plan to practice therapy or become a case manager."  
 For Chava', deciding to pursue Emergency Management seems like a great fit. "I took an introduction to Firefighting Technology class my senior year and fell in love with it. I aspire to ultimately run an emergency room or trauma unit at a hospital so I can care for people during their greatest time of need." 
ECSU offered one-time scholarships to new military and military-affiliated, new transfer and returning students (students who experienced a break in pursuing their degree). There were an increase of 3% over the 2021 academic year for military-affiliated and a 10.8% increase for adult learner students. Expanded Memorandum of Understandings with community colleges in North Carolina contributed to more commitments from transfer students. 
Dr. Farrah Ward, provost and vice chancellor for Academic Affairs, notes, "This year, we are seeing how both the value and demand of the ECSU education are bringing new Vikings to our community. Aviation Science, our signature program, is the top intended major for first-time freshman, along with Business Administration, Psychology, Biology and Sports Management." 
---