ECSU recognizes teachers during American Education Week assembly
Posted On November 23, 2009
---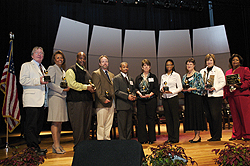 Kesha Williams
November 23, 2009
Area Teachers of the Year (2009) have new trophies for their collections. The trophies were awarded during the annual American Education Week assembly on November 19. Standing left to right: Dr. Joseph Lisowski, an ECSU Departmental Teacher of the Year from the Language Literature and Communications Department Mrs. Ann White, an ECSU Departmental Teacher of the Year from the Education Department Dexter Jackson-Heard from Perquimans County, Randy Kidd from Pasquotank County, Vann Lassiter from Edenton-Chowan County, Carol Mizelle from Bertie County, Battina Armstrong from Camden County, Annette Sipe from Beaufort County, Mary Baker from Martin County. Dr. Sylvia Mason, dean of the ECSU School of Education and Psychology was the speaker for the American Education Week assembly.
Other ECSU Departmental Teachers of the Year not pictured include: Dr. Tesfaye Serbessa, Department of Chemistry, Geology and Physics Dr. Kuldeep S. Rawat, Department of Technology Ms. Deborah A. Riddick, Department of Social Sciences.
Mr. Torian Lee and Dr. Saundra Copeland led the combined observation of International and American Education Week at ECSU.
---