ECSU Receives Four HBCU Grow LEAD Platinum Awards
---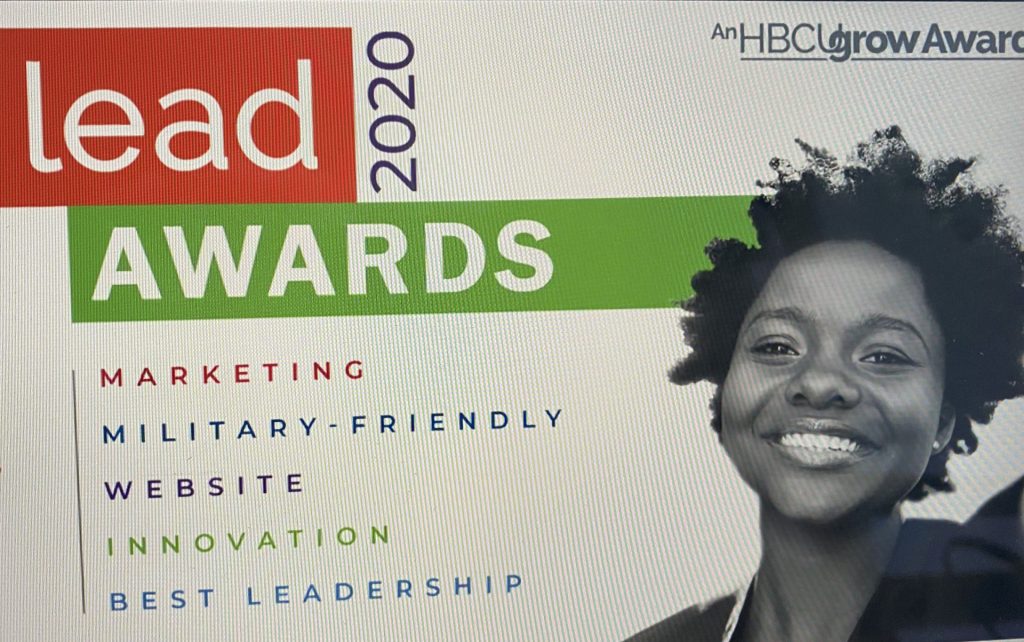 Elizabeth City State University has been awarded four platinum awards by the HBCU Grows LEAD Conference 2020. The university received the awards for most military friendly, innovation, marketing, and leadership during a virtual ceremony held Tuesday, April 7.
Chancellor Karrie G. Dixon received the platinum leadership award for her work as ECSU's chief executive officer.
Chancellor Dixon was recently named one of the 10 Most Dominant HBCU Leaders by HBCU Campaign Fund. Since her time as Chancellor of ECSU, she has focused on campus revitalization, enrollment growth, and infrastructure with a focus on building the foundation for a sustainable future.
"I have to recognize that I do nothing on my own," Chancellor Dixon said upon receiving the award. "It's all about the shoulders I stand on."
She went on to recognize ECSU's senior leadership who, she said, have taken charge of forging the university's future.
"I have a dynamic team," said Chancellor Dixon. "I thank each and every one of them every day for waking up every morning and asking what is best for our university."
The university also received a platinum award for innovation. Through ECSU's efforts to expand its degree programs with an eye on workforce demands, the university is forging a path for its students.
One area of innovation is aviation, led by ECSU's dean of science, aviation, health, and technology, Dr. Kuldeep Rawat. Through ECSU's efforts to build the only four-year aviation degree program in North Carolina, its aviation program and new unmanned aircraft systems degree program are serving the industry as job demand is at an all-time high.
"We are graduating pilots. We are growing our aviation program," said Chancellor Dixon. "Over the past year alone, we grew by 45 percent."
ECSU was also recognized as a military friendly school with a platinum award. Through the efforts of the Chancellor and her staff, the university's director of military and veterans affairs, Tim Freeman, and a strong relationship with the Coast Guard, ECSU has proven that it values the men and women of the military.
"We work very diligently to make sure we provide a military friendly campus," said Chancellor Dixon.
For ECSU's efforts to market its aviation program as a sub-brand, the university received a fourth platinum award. To promote aviation science, a signature program, ECSU launched a marketing campaign in cooperation with the national marketing firm Vitalink to develop a sub-brand using survey and focus group input.
"We chose to create a sub-brand for this program to increase its visibility and enhance our strategic outreach of this in-demand program," said Michelle Ball, ECSU's director for strategic communications. "The strategic process we used for the creation of the sub-brand allowed us to engage with our students, faculty, and staff, as well as stakeholders through surveys and focus groups. Collaborating with them resulted in a strong sub-brand for the program."
HBCU Grow is a consortium of people dedicated to helping HBCUs grow enrollment, alumni giving and address marketing challenges. The LEAD Awards recognizes the efforts of HBCUs in various categories. This year's HBCU LEAD Conference theme was "The Intersection of Business and Education."
---