ECSU Receives Dwight David Eisenhower Transportation Fellowship Grant for Second Consecutive Year
Posted On January 30, 2018
---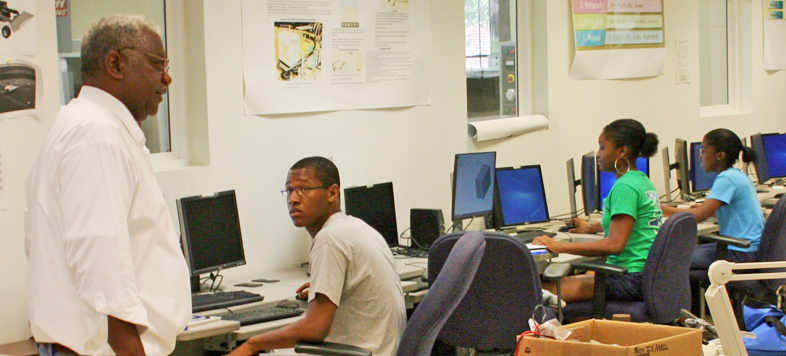 Dr. Ellis Lawrence, left, recently announced that Elizabeth City State University has been awarded a $27,500 grant by the Dwight David Eisenhower Transportation Fellowship.
Dr. Ellis Lawrence, a professor of technology and aviation science at Elizabeth City State University, recently announced the Dwight David Eisenhower Transportation Fellowship Program (DDETFP) grant valued at $27,500 was awarded to ECSU for the second consecutive year.
This year, the grant will benefit four undergraduate students and one graduate student currently studying at ECSU. The grant is designed to support students pursing a masters or a doctoral degree in transportation-related disciplines.
According to the Dwight David Eisenhower Transportation Fellowship Program, the objectives are to attract the nation's brightest minds to the field of transportation and enhance the careers of transportation professionals by encouraging them to seek advanced degrees, and to retain top talent in the transportation industry of the United States.
The grant covers tuition, fees and a stipend for four ECSU students enrolled the spring 2018 semester. Three of the students were approved to receive $7,500 which covered the cost of attending a five-day annual meeting of the Transportation Research Board held in Washington D.C., earlier this month. One student received funding to attend the annual meeting, but not university tuition and fees. The level of funding depended upon an academic ranking system determined by the fellowship program.
Students who received grants and stipends are William Nelson, $10,000; Shatoya Estime, $7,500; Momen Mohammed, $5,000; Amy Walsh, $3,500; and Narendra Banerjee, $1,500.
The students were required to provide an abstract that accompanied their application for this grant. Their related research project is required to be completed by the close of the spring 2018 semester.
As of 2018, 10 ECSU students have received the DDETFP grant.
---