ECSU Receives Cybersecurity Grant to Enhance Aviation/Drone Program Curriculums to Meet Growing Workforce Demand
---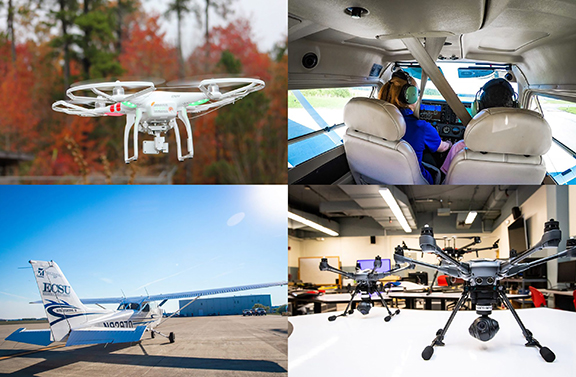 Elizabeth City State University has received a $70,000 Phase 1 grant from the Carolina Cyber Network (CCN) to strengthen education and training to meet a growing demand for a cybersecurity workforce.
According to Dr. Kuldeep Rawat, dean of the School of Science, Aviation, Health and Technology, ECSU is one of 10 schools across the state to become a part of the Network. The grant will, he said, take the university through three phases designed to help build a cybersecurity workforce.
Throughout the phases, ESCU will pursue two goals and two objectives:
Goal 1 is to enhance STEM education and training to meet the current and future workforce needs;
Goal 2 is to build interest, skill and knowledge necessary for undergraduate students to pursue cybersecurity careers;
Objective 1 is to increase the number of historically underserved and underrepresented students from the Northeastern North Carolina region and beyond who are interested in cybersecurity careers;
Objective 2 is to engage students and faculty in hands-on training and use of advanced tools to build a competency in aviation and drone cybersecurity.
"There are close to 20,000 cybersecurity jobs in North Carolina alone," said Dr. Rawat. "Industry reports estimate that there are almost three million worldwide and we are trying to build this workforce pipeline."
In phase one, ECSU will focus its efforts on the aviation and drone programs, creating course modules that emphasize cybersecurity. Cybersecurity knowledge is increasingly important in the fields of aviation and drone technology. A drone, said Dr. Rawat, "is basically a flying computer."
Students will examine how cybersecurity impacts aviation including commercial air transport operation and air traffic control. Students will review the threats to aviation security and mitigations of those threats.
Students will also learn basic principles of information security, learn how to protect drones from cyberattacks, and understand risk assessment principles. They will learn how to identify cyber threats and vulnerabilities and to prevent danger to drone technology systems.
The grant, which is funding for phase 1, will help set up a cybersecurity lab that can be used by students across multiple programs, including computer science, mathematics, engineering technology, and management information systems.
The second phase is the "hub and spoke model," with CCN as the hub and the partner schools as the spokes. Dr. Rawat says that between the schools, the goal is to first impact 1,000 students.
In phase three, the goal will be to impact 3,000 students throughout the state network.
"We need to fill the skill gap," said Dr. Rawat. "The demand is up so we will supply the skills."
---