ECSU Ranks in Top Three for Public Schools in Regional South
Posted On September 10, 2019
---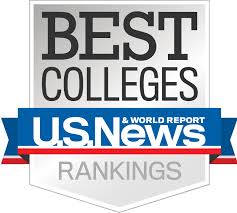 U.S. News and World Report has ranked Elizabeth City State University as the third Top Public School in the Regional College South for its 2020 Best Colleges list.
In addition, U.S. News and World Report has also ranked ECSU seventh for Top Performers in Social Mobility, and 26th for Best Regional College South.
According to the publication, Top Public Schools are those universities that "operate under the supervision of state governments and are funded, in part by tax dollars and subsidies from the state. As a result, these universities often offer discounted tuition to residents of their states."
ECSU is one of three N.C. Promise Schools, offering in-state students $500 tuition per semester, and tuition for out-of-state students $2,500 per semester.
"We have been working intentionally to raise the profile of this great institution; and while this ranking is an indicator that our efforts are being noticed, we will continue to strive for excellence at ECSU," said ECSU Chancellor Karrie Dixon.
According to U.S. News and World Report, Top Performers on Social Mobility rankings are given to schools that put a focus on economically disadvantaged students, "by enrolling and graduating large portions of disadvantaged students awarded with Pell Grants."
For the Best Regional Colleges South ranking, U.S. News and World Report looks at schools "according to their performance across a set of widely accepted indicators of excellence." ECSU was 26th out of 84 colleges or universities ranked in the regional South.
U.S. News considers 15 areas when ranking schools for academic excellence, placing the largest emphasis on a school's ability to retain and graduate its students. Other factors include class size, undergraduate academic reputation and how much a school spends per student on instruction and other related educational expenses.
The 2020 Best Colleges rankings mark the second year that U.S. News has included social mobility in its methodology. Social mobility considers graduation rates for students who received federal Pell Grants, financial aid that is typically reserved for those with annual household family incomes below $50,000.
In the past year, ECSU has been ranked the number one Most Affordable Public HBCU in the Nation by Student Loan Hero, the number five Most Military Friendly School by Victor Media, a Best College for Military Students by Veterans Magazine, and seventh in a list of top Social Mobility Innovators by CollegeNET, Inc.
---