ECSU ranked third among public HBCU green initiatives
---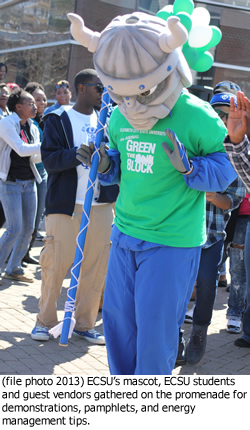 Kesha Williams
April 25, 2014
Elizabeth City State University ranks third among the top, public Historically Black Colleges/Universities (HBCUs) in a recent survey that analyzes efforts the institutions are taking to effectively manage energy.
The Building Green Initiative at Clark Atlanta University partnered with the North Carolina Institute for Minority Economic Development to conduct a comprehensive sustainability survey of HBCUs. The survey recognizes and celebrates the achievements of the &quotTop 10 Green HBCUs&quot which include: the University of Maryland Eastern Shore, Spelman College, Florida A &amp M University, Howard University, and Elizabeth City State University in the top five. North Carolina Agriculture &amp Technical University, Livingstone, Bowie State, Morgan State, Mississippi Valley State, Clark Atlanta and Claflin Universities round out the top ten including ties represented in the Top 10 Green HBCUs chart recognizing public and private historically black colleges and universities.
The comprehensive survey analyzes the responses from participating HBCUs in the areas of administration, energy efficiency, green building, recycling, renewable energy generation, food, transportation, purchasing, and student involvement. This HBCU segment of society committed to sustainability practices is part of a larger national effort designed to better manage energy and resources.
Felicia Davis, director of the Building Green Initiative at Clark Atlanta University, said that institution takes pride in housing this program for HBCUs. It shows minority serving institutions are willing to govern themselves on green projects.
&quot&quotFive years ago few HBCUs were looking in this direction, going green, but many are now supporting the initiative. To see them making headway is uplifting,&quot Ms. Davis said. &quotECSU was the first campus to sign the American College and University Presidents Climate Commitment. To see them ranked third shows how committed they were in going from good to great.&quot
Dr. Scott Bradshaw, director of sustainability, said this ranking is a wonderful indicator of ECSU's commitment to the future.
&quotThis recognition really honors the work of so many ECSU students, faculty, and staff in making sustainability a priority, and encourages us to redouble our efforts as we work towards being carbon neutral by 2050.&quot
ECSU took several steps over the last five years to improve. The university contracted with Honeywell Corporation to identify energy enhancements in select buildings on campus. Campus-wide efforts such as the &quotGreen for All&quot and &quotGreen the Block&quot encouraged students to learn how their actions – recycling, purchasing organic products, understanding water quality differences, and installing energy-efficient light bulbs – can change the environmental destiny for themselves and surrounding communities in northeastern North Carolina.
The Building Green Initiative at Clark Atlanta University is one of many segments of society overseeing sustainability projects. It is linked to the Green Building Initiative (GBI) is a nonprofit organization whose mission is to accelerate the adoption of building practices that result in energy-efficient, healthier and environmentally sustainable buildings by promoting credible and practical green building approaches for commercial construction.
The GBI has benefited from the support of a core group of industries committed to advancing the green building movement by creating credible options for their mainstream builder customers. Organizations like the Wood Promotion Network, as well as interests from such sectors as financial services, retailers, wholesalers, appliance manufacturers and other building material providers have all stepped forward to support their efforts. – See more at: http://www.thegbi.org/about-gbi/#sthash.rUKa7xqM.dpuf
---