ECSU Ranked Number One Most Affordable Accounting Program
---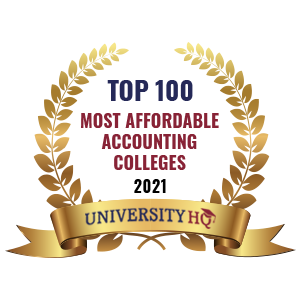 The college ranking website UniversityHQ.org has named Elizabeth City State University the number one most affordable accounting program in the country.
According to the site's listing for 100 Best Affordable Accounting School Degrees, ECSU took the number one spot due to a number of factors, including financial aid, and tuition. ECSU is an NC Promise Tuition school, making it one of the most affordable university's in North Carolina.
"ECSU's Bachelor of Science in Accounting is one of the best kept secrets in Northeastern North Carolina," said Dr. Joy Smith, dean of the School of Education and Business. "We're thrilled to see that the secret is getting out through this recognition."
The ECSU Department of Business, Accounting, and Sports Management is accredited with the Association to Advance Collegiate Schools of Business, or AACSB International.
According to Dr. Smith, AACSB International is the gold standard for business school accreditation. ECSU shares the accreditation with high profile institutions such as Harvard, Yale, the University of North Carolina at Chapel Hill, Duke, and Howard Universities, she said.
ECSU's accounting program is among the most popular at the university. The program prepares students for the CPA exam by letting them take the first 120 of the 150 hours required to sit for the exam.
"Our program is preparing ECSU students for careers with a solid foundation in accounting, offering them a knowledge base to compete in a highly competitive world," said Dr. Smith.
UniversityHQ's ranking criteria also includes retention rates. Because student success is a top priority for ECSU, the university recently announced the launch of the VikingPlus program, a comprehensive set of initiatives to help students afford a high-quality college education.
The university will award new funds under VikingPlus this year and has already provided a total of nearly $4.2 million in free credits, additional emergency funding, and housing and meal plan grants since spring 2020.
UniversityHQ is an independent educational organization providing information for students looking to pursue a degree in higher education. For more information about ECSU's number one ranking, go HERE.
---