ECSU Ranked as Military Spouse Friendly School
---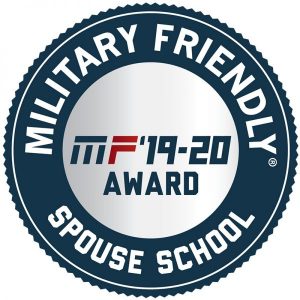 Elizabeth City State University has been named a 2019-2020 Military Spouse Friendly School, according to Victor Media, creator of the Military Friendly program.
Since 2009, the Military Spouse Friendly Schools list has been a resource for military spouses and has set a standard for higher education institutions to provide the best post-secondary education experiences for spouses of service members. The ranking will be published in the September edition of Military Spouse Magazine.
"The Military Spouse Friendly Schools designation helps military spouses select schools that will support them in their education journey by meeting their unique needs as a part of a military family," said Brian Hucik, the national program manager for Military Friendly. "Schools that are selected for the list are at the forefront of supporting the goals of military spouses."
ECSU has been working under the direction of Military and Veterans Affairs director Tim Freeman to provide services to the men and women, and their families, who either have served or currently serve in the nation's armed forces. The university's Military and Veterans Affairs Office was moved to its permanent home at Griffin Hall last year, an event that was celebrated in December by Chancellor Karrie Dixon, Freeman, members of the Board of Trustees, the  campus community and the public.
The office is a space for military and veteran students, and their dependents, to not only find assistance on campus, but also veterans affairs guidance. A representative from the Department of Veterans Affairs in Norfolk, Virginia, frequently comes to campus to work with students, and with members of the military based in the area.
The new center is outfitted with a lounge, a television, and with four new computers, giving students a place to relax, study, and seek military and university related services and guidance.
ECSU has also worked to expand its degree program offerings, creating online programs that allow service members and their families the opportunity to earn a degree no matter where they are stationed. The university currently offers an Interdisciplinary Degree, and beginning in fall 2019 will offer online degrees in emergency management and homeland security.
Most recently, ECSU was awarded a Military Friendly designation by Victor, ranking it fifth in the nation for small public universities. It was also named to the Military Times list of Best Colleges for 2019, the Best of the Best by U.S. Veterans Magazine,  number 12 on the U.S. News and World Report Best HBCU in the Nation list, and the number one most affordable public HBCU in the nation by Student Loan Hero.
Victory Media, originator of the family of Military Friendly employment, entrepreneurship and education resources for veterans and their families, publishes its special awards at https://militaryfriendly.com. For more than a decade, Military Friendly ratings have set the standard for companies and colleges demonstrating positive employment and education outcomes for veterans and their families.
ECSU, a constituent institution of the University of North Carolina, has 28 undergraduate degree offerings and four graduate degree programs, flexible study options, and research opportunities.
---