ECSU Ranked a 2019 Best Bang for the Buck School
Posted On August 29, 2019
---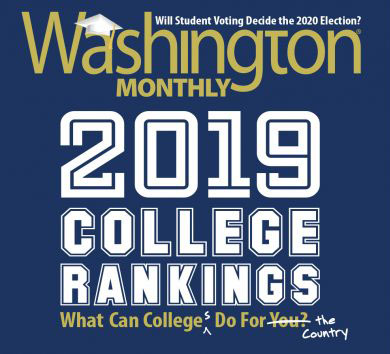 The Washington Monthly says Elizabeth City State University is one of the southeast United States' 2019 Best Bang for the Buck colleges.
According to the Washington Monthly, ECSU ranks 13thout of 266 schools listed in its annual college rankings publication.
"We rank four-year schools based on their contribution to the public good in three broad categories: social mobility, research, and providing opportunities for public service," reads the Washington Monthly's rankings webpage.
According to the 2019 college rankings webpage, the list is based on how well schools help "non-wealthy students attain marketable degrees at affordable prices."
ECSU is one of three N.C. Promise schools in the University of North Carolina System. As an N.C. Promise school, the university offers $500 per semester tuition for in-state students and $2,500 tuition for out-of-state students.
ECSU offers a number of marketable degrees, including a degree in aviation science. Fall 2019 marked the debut of the new unmanned aerial systems, or drone, degree program.
Drone technology and aviation are among some of the fastest growing job markets in the country.
---