ECSU Qualifies for National Quiz Bowl Tournament
Posted On February 9, 2017
---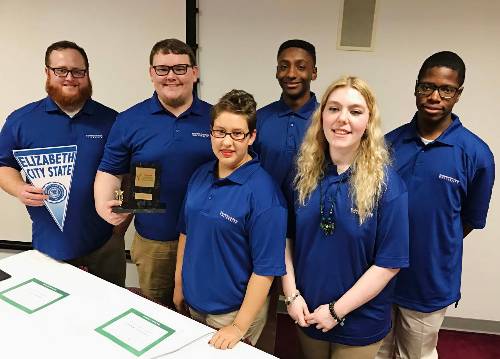 Elizabeth City State University finished second at the National Qualifying Tournament of the Honda Campus All Star Challenge quiz bowl at Virginia Union University in Richmond, Virginia on Saturday, Feb 4. The team will now head onto the national championships in April.
Sixty-two historically black colleges and universities convened at seven sites across the country to compete for automatic entry into the National Championship Tournament later this spring. Ten institutions competed for automatic bids in Richmond.
With the second place finish at the VUU qualifying tournament, ECSU automatically punched its ticket to the National Championship Tournament in Los Angeles, California, April 8-12, 2017. There they will compete in a field of 48 HBCUs for the HCASC top prize of $75,000.
On the way to the championship match, ECSU prevailed over Norfolk State University, Virginia Union University, and Morgan State University. ECSU then dropped its preliminary round match with the 2014 HCASC national champion Fisk, and finished that round with a record of 3-1, making ECSU the third seed in a four-team playoff.
"I can't express how proud I am of these young people for the great way in which they represented our university," said Dr. Kenneth Elvis Jones, director of the University Honors Program and coach of the HCASC team.
Dr. Velma Blackmon, adjunct faculty to the Honors Program, also traveled to Richmond. The quiz bowl team consists of Honors Program students as well as students from the at-large campus. Participation in HCASC was based on an all-campus "power" search, which began last fall.
The ECSU quiz bowl team players are captain Zachary Singletary, James Jarvis, Jr., Jerome Jorman, Jr., and Cheyenne Butler. Also traveling to Richmond were team members Thomas Johnson and Brittany Peden.
Elizabeth City State University has participated in the HCASC program since 1992 and has competed at 20 National Championship Tournaments. The Vikings have advanced to the national quarterfinals and semifinals, and in 1997 were the national runner up.
---