ECSU Professor Selected for International Fulbright Study Program
---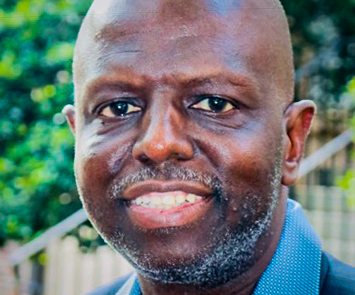 Elizabeth City State University's director of University Honors Program and professor of social work, Dr. Andre Stevenson, has been selected as one of 16 scholars to participate in a Fulbright Seminar focusing on Taiwanese politics, economics, and culture.
The seminar will take place in June 2021 – postponed from June 2020 due to COVID-19 – and scholars such as Dr. Stevenson will gather in the Asian country for four weeks of research and study. The program will allow the participants to pursue their individual academic interests and develop projects they plan to bring back to the classrooms and their students.
"We will have the opportunity to interact with academics from various institutions within the country, policymakers, and community leaders to explore, among other things, public policy," said Dr. Stevenson.
He says after his four weeks in Taiwan, he plans to use the knowledge and experience gained from the seminar to amend his social welfare policy course. He wants to encourage his social work majors "to explore comparative perspectives on social welfare policies and practice between Taiwan and the United States."
Dr. Stevenson says he will also begin establishing networks with other institutions that could open doors for ECSU students to seek study-abroad opportunities in Taiwan.
"Lastly, and equally important, I hope to return to ECSU from the four-week educational experience and encourage ECSU administrators, faculty, staff, and students to apply to the Fulbright Program in an effort to expand our academic research, as well as our intercultural knowledge and understanding," he said.
The Fulbright Program promotes international study, such as the seminar in Taiwan. With the 22ndlargest economy in the world, Taiwan has become a leading Asian democracy by investing in its people.
Dr. Stevenson is a full professor of social work at ECSU. He was also recently appointed to serve as the director of the Office of International Programs and director of the Honors Program at ECSU.
He has over 20 years of full time teaching and research experience in social work education and public health. One of his recent appointments includes serving as faculty with the Foundation for Professional Development School of Business at Yale University's School of Public Health Advance Health Management Program in Pretoria, South Africa.
Much of Dr. Stevenson's academic career has been dedicated to future PhDs. He has served on several PhD dissertation and master's thesis committees, including New York University and the University of Pennsylvania; and as an external examiner for graduate student thesis work at South Africa's University of Cape Town.
Dr. Stevenson received his PhD in Social Work, Master of Public Health, and Master of Social Work degrees from the University of Pittsburg.
---