ECSU Presents Douglas Jackson and Alan Woo in Recital, Nov. 4
Posted On October 25, 2021
---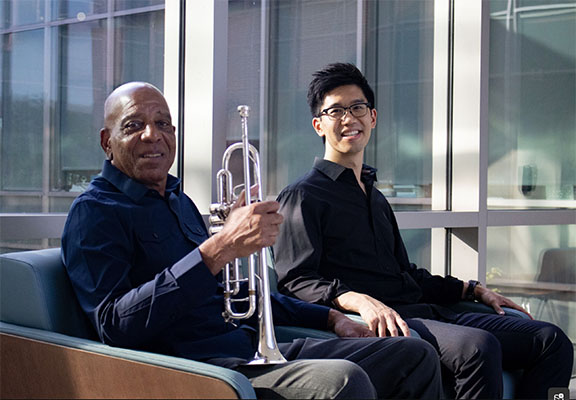 The music is alive at Elizabeth City State University. A recital by music professors, Julliard-trained Dr. Alan Woo and jazz recording artist Douglas Jackson, will feature compositions by Rameau, Pepusch, Fabre, Offenbach, and Mussorgsky Nov. 4, free and open to the public.
Dr. Woo is a pianist who has been praised by the New York Times as a musician with "assurance and vitality." He is an experienced performance artist who has acquired a great deal of experience since he began studying at the age of four.
Dr. Woo made his Lincoln Center debut at 19, performing with the Juilliard Orchestra under the direction of Maestro Yannick Nezet-Seguin. Since that time, he has collaborated with a number of acclaimed artists and has appeared with the Houston and Fort Worth Symphonies, and the Music Academy of the West Festival Orchestra.
A chamber musician, Dr. Woo has made appearances at the Brooklyn Chamber Music Society, La Jolla Music Society's SummerFest, Juilliard's ChamberFest and more. He completed his Bachelor and Master of Music degrees at The Juilliard School as a student under the direction of Robert McDonald, and his doctoral degree at the Peabody Institute under the guidance of Yong Hi Moon.
He currently serves as a lecturer of piano at ECSU.
Mr. Jackson is no stranger to music lovers in Northeastern North Carolina. He is a jazz musician and composer, playing the trumpet with area and visiting musicians.
As a trumpeter, Mr. Jackson has performed in the Latin Jazz band of legendary Cuban conguero, Francisco Aquabella. He recently received an Artist Support Grant administered by Arts of the Albemarle, supporting the release of his CD, "In Style." In September 2021, the CD reached number 184 of the Jazz Week Charts.
Mr. Jackson earned his bachelor and master's degrees in music from California State University, Los Angeles. Prior to coming to ECSU as a professor, he worked in the music and film industry for MGM Studios and BMG Production Music Group.
Mr. Jackson was most recently elected to a three-year term to the North Carolina Humanities Board of Trustees. He is an assistant professor of music at ECSU.
The recital will take place Thursday, Nov. 4 in the Floyd L. Robinson Auditorium at the Mickey L. Burnim Fine Arts Center on the campus of ECSU, at 7:30 p.m. Admission is free, and masks are required while inside the buildings.
---