ECSU, Pitt Community College Sign Co-Admission, Degree Program Agreements
---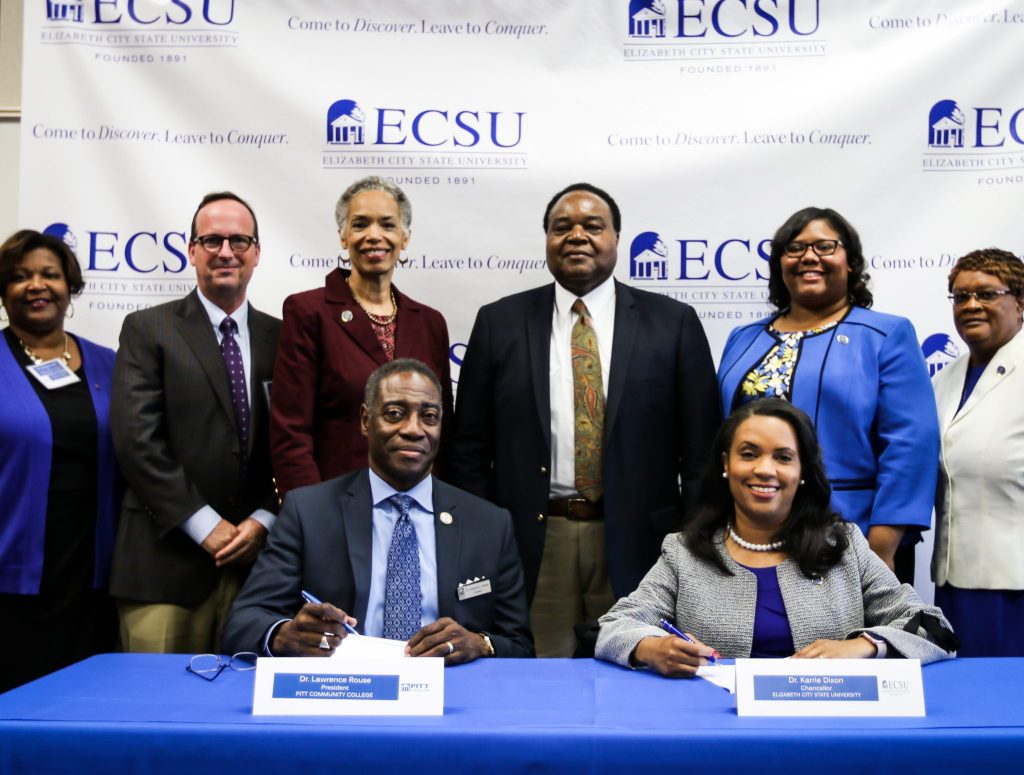 Pitt Community College president, Dr. Larry Rouse, seated left, joins ECSU Chancellor Karrie Dixon in signing four agreements to help further the education of North Carolina students Tuesday, April 23.
When Elizabeth City State University graduate Michelle Nowell announced to a room full of people gathered to celebrate an agreement between Pitt Community College and ECSU that she has been named a Head Start Teacher of the Year, the crowd erupted in applause. Nowell is one of many examples of successful transfer students who choose to make ECSU their home.
The event Tuesday, April 23, was the signing of four agreements between ECSU and Pitt, designed to give community college students a clear path to ECSU and their bachelor's degrees.
Attended by ECSU and Pitt Community College officials, the signing ceremony highlighted criminal justice, business administration, birth-to-kindergarten education, and a co-admission agreement designed to allow students to be admitted to ECSU and Pitt simultaneously, and then move to the university upon the completion of their associate's degree.
Both the criminal justice and business administration programs include an online degree completion component. According to ECSU Interim Provost Farrah Ward, Pitt Community College is ECSU's first collaborator in the two online degree programs.
Pitt Community College students who complete their associate's degrees in either program may continue onto their bachelor's degree work online, without leaving their home in the Greenville, Pitt County area.
The birth-to-kindergarten program, however, will require students pursuing their bachelor's degree in early childhood education to attend classes on campus. That program involves hands-on class work at ECSU's early childhood laboratory.
Teacher of the Year Michelle Nowell benefited from that program. She transferred from College of the Albemarle to ECSU's early childhood program and told the crowd gathered Tuesday that her transition was easy and it made a big difference in her future as an educator.
Nowell works as a preschool teacher with Head Start in Elizabeth City. She is a state-certified teacher.
Other students who spoke highly about their transfer experiences were Wilmon Lee, Alisha Matthews and Lawrence Brown. Both students described personal success with their transfers, emphasizing their delight with becoming a part of the ECSU Viking family.
ECSU Chancellor Karrie Dixon addressed the crowd, which included Pitt president Dr. Larry Rouse. She said the university has set out to be intentional with its actions and bringing greater access to higher education is a part of that action plan.
"Today demonstrates how Pitt Community College and ECSU can collaborate," said Dr. Dixon. "This is huge. We are here to make a statement and we are here to be intentional."
That statement Dr. Dixon refers to is being made by ECSU repeatedly as numerous agreements with regional community colleges are being made with institutions such as Halifax Community College, and most recently College of the Albemarle.
Another signing ceremony is scheduled to take place Monday, April 29 at 10 a.m. with Edgecombe Community College.
---