ECSU Pharmacy Complex Ribbon Cutting Showcased High Tech Facility and Doctor of Pharmacy Partnership Degree Program
Posted On October 11, 2010
---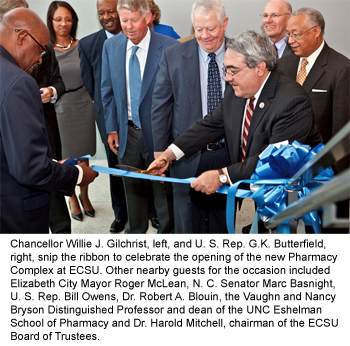 Bonnie V. Winston
October 11, 2010
Elizabeth City State University's Doctor of Pharmacy Partnership Program is creating a lot of buzz.
Just days after ECSU Chancellor Willie J. Gilchrist and UNC system President Erskine Bowles officially opened the new pharmacy complex on the ECSU campus at a festive ribbon-cutting ceremony, more than 40 people attended two open house sessions to learn about the pharmacy partnership program.
&quotIt was very exciting,&quot Dr. Latasha Weeks, the new director of the UNC-Chapel Hill/ECSU Doctor of Pharmacy Partnership Program, said of the response at the open houses. &quotA lot of students came up to me afterward and asked how they can prepare for admission and use their skill sets in this area.&quot
The new $28 million, glass and steel structure, located near the Jenkins Science Center, has three stories and 52,500 square feet of classroom, laboratory and office space. The university's Drug Information Center shares the first floor with undergraduate labs, while the second and third floors are dedicated primarily to the doctor of pharmacy program, including classrooms, IV simulation and compounding labs and faculty research labs.
The spacious complex will allow enrollment to nearly triple at the ECSU branch of the pharmacy program. Currently, 41 students are enrolled in the four-year, doctor of pharmacy program.
ECSU's partnership with UNC-Chapel Hill's Eshelman School of Pharmacy was launched in 2005 to help alleviate the shortage of pharmacists in northeastern North Carolina, one of most medically under-served regions in the state and the nation, Dr. Weeks explained. The program's goal also is to produce pharmacists who better reflect the area's diverse African-American and Latino populations.
The Sept. 27 ribbon cutting drew a number of state, community and academic leaders, including Elizabeth City Mayor Roger A. McLean Congressman G.K. Butterfield, who represents Elizabeth City in North Carolina's First Congressional District and Dr. Robert A. Blouin, dean of the UNC Eshelman School of Pharmacy, Erskine Bowles, present of the University of North Carolina, Dr. Holden Thorpe, chancellor of UNC at Chapel Hill, N.C. Rep Bill Owens, N.C. Sen. Marc Basnight.
ECSU students and alumni also attended.
Through the partnership, students at ECSU are instructed &quotvirtually&quot by professors at the UNC Eshelman School whose lectures are transmitted in real-time through interactive video conferencing to classrooms in the new pharmacy complex on ECSU's campus, Dr. Weeks explained.
Faculty at ECSU serve as liaisons and teach as needed.
After three years of classroom instruction, students complete a yearlong series of four- to five-week clerkships under the supervision of established and licensed pharmacists. The clerkship rotations are done in a variety of settings, such as hospitals, clinics and agencies, which gives students a broad practical experience in pharmacy.
Graduates of the program earn a doctor of pharmacy degree from the UNC Eshelman School of Pharmacy, with a special designation that it is done in partnership with ECSU, Dr. Weeks said.
Already, the ECSU pharmacy partnership program has 23 graduates — 13 in 2009 and 10 in 2010.
While prerequisites for admission to the doctor of pharmacy program include two years of undergraduate work, largely in the sciences and mathematics, most students entering the program have completed their baccalaureate degrees, Dr. Weeks said.
Nearly two dozen undergraduates at ECSU inquiring about the professional program attended the Oct. 6 open houses, along with a like number of high school students and their families. Dr. Weeks talked about career possibilities and the future of the program.
&quotPeople typically think of pharmacists as the man or woman behind the counter at CVS,&quot Dr. Weeks said. &quotThat could be the reason why students aren't as excited about pharmacy because that's what they see. That's all they know.
&quotBut once they come to events like open houses, after they do shadowing or participate in summer programs, they learn more about what pharmacists can do and that stimulates interest in pharmacy as a profession.&quot
She said career options for pharmacists are wide and varied, and can include working for government agencies such as the federal Food and Drug Administration based in Rockville, Md., the Centers for Disease Control and Prevention in Atlanta or on military bases around the world.
There also are jobs within the pharmaceutical industry, doing drug writing, working for professional organizations, consulting on government and regulatory affairs, in the managed care aspects of pharmacy, or working as a health educator or administering immunizations in a public health department.
&quotWe (pharmacists) can do a wide variety of things beyond working in community pharmacies or hospitals, which is certainly the backbone of pharmacy&quot Dr. Weeks said. &quotBut I think once students go through pharmacy school and are exposed to different practice settings, this can affect their choice of career and their ability to stay in the area.&quot
---