ECSU Partnerships and Field Training Programs Develop Skilled Social Workers to Meet Labor Demands
Posted On December 29, 2022
---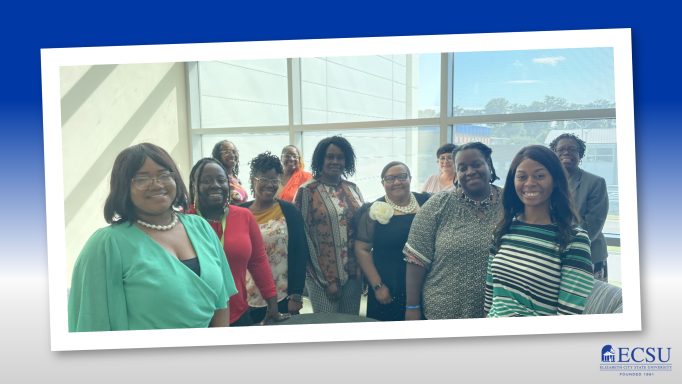 University enters fourth year of partnership with North Carolina Child Welfare Education Collaborative
The National Association of Social Workers (NASW) notes there are nearly 720,000 social workers in the nation, and that number is expected to grow by 12 percent by the end of the decade,  making social work one of the fastest growing professions in the nation. In May 2023, the Elizabeth City State University (ECSU) Bachelor of Social Work (BSW) program will have 19 graduates who will take the oath as social workers to serve some of the most vulnerable citizens in our country. These generalist practitioners will join the 700,000+ professional social workers employed in the United States and more than three million worldwide.
Strong partnerships and field training are crucial aspects of ECSU's social work program. The ECSU Social Work Program is entering the fourth year of its partnership with the North Carolina Child Welfare Education Collaborative (CWEC). CWEC was established in 1999 and consists of 21 social work programs at both public and private institutions throughout the state who train future child welfare workers in BSW and Master of Social Work (MSW) programs. It is designed to improve public child welfare services in North Carolina and ensure graduates meet the State's pre-service training competency requirements.
Students participating in the CWEC complete pre-service training during their junior year, as well as an internship at a local department of social services in their senior year. Kim Downing, Ph.D., director of ECSU's Social Work Program, developed 10 workshops to address the 22 competencies and learning objectives required for the mandatory pre-service training. The workshops are facilitated by social work faculty and community partners at the Pasquotank County Department of Social Services, Currituck County Department of Social Services, and a District Administrator with the Guardian ad Litem Program.
"CWEC organizations have prepared more than 1,500 highly qualified social workers committed to working in North Carolina County Department of Social Services agencies," says Downing.  "When students graduate with their Bachelor of Social Work degree, Collaborative fellows enter the workforce at a state social services agency with all the required knowledge and skills as a generalist practitioner."
Four ECSU Social Work students have been selected as the 2022-23 Collaborative fellows: Courtney Glover, Makayla Hathaway, Regina Seymore and Najella Williams.
| | | | |
| --- | --- | --- | --- |
| Courtney Glover | Makayla Hathaway | Regina Seymore | Najella Williams |
One of the main components of the ECSU BSW degree is Field Education, which provides the opportunity for students to complete internships. In 2008, the Council on Social Work Education (CSWE) designated field education as the integrative curricular area in which students are socialized to the profession and learn to connect theory to practice.
"Accredited social work programs cannot operate without field education and qualified Field Instructors. Their contributions to this program are invaluable, and through their collaboration, we successfully maintain a BSW program that is providing generalist practitioners to northeastern North Carolina and the surrounding 21 counties," says Downing.  In addition, a significant number of our graduates obtain a master's in social work degree in one academic year by completing advance standing programs."
In November, the ECSU Social Work program hosted Field Instructors on campus for Fall 2022 training. These instructors serve as supervisors for BSW students completing their internships at human service agencies in the community and on campus. This was the first in-person training since the pandemic.
Downing added, "During the COVID-19 pandemic, field instructors remained dedicated to supervising students so they could graduate on schedule.  Students also had the opportunity to provide services to clients directly impacted by the pandemic."
Helping Our Community
Each November, the Social Work Club and Pi Psi Honor Society collect food items to support families in the community.  It is one of many Social Work Program endeavors wherein students engage in service-oriented activities to demonstrate the mission of Social Work.
According to the National Association of Social Workers, "the primary mission of the social work profession is to enhance human well-being and help meet the basic human needs of all people, with particular attention to the needs and empowerment of people who are vulnerable, oppressed, and living in poverty."
This holiday season, the ECSU Social Work program partnered with Pasquotank County Department of Social Services (PCDSS) to provide a food basket to a family in need in Elizabeth City.  Alexandria Stancil, Collaborative Fellow 21-22, was instrumental in identifying a family.  Social Work students provided nonperishable food items and ECSU Faculty contributed funds to purchase meats. Stancil is completing her internship at PCDSS.
---