ECSU Partners with iEmpower for Youth Leadership Conference
---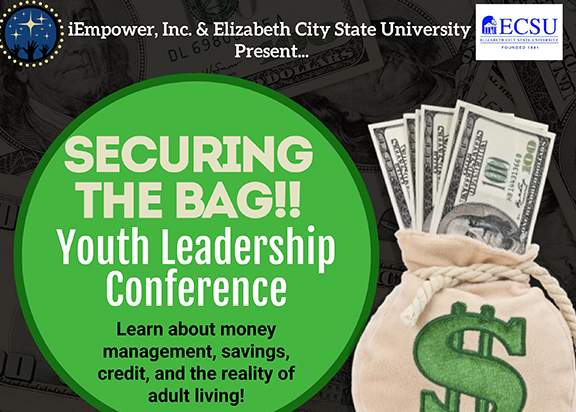 Elizabeth City State University has partnered with the nonprofit organization, iEmpower, to bring leadership and career education to area students, 5th through 9th grades. A youth leadership conference will take place on the ECSU campus beginning Monday, July 12 and run through July 16.
"The purpose of our annual youth leadership conference is to expose our youth to various community leaders, careers, and opportunities while providing them with a culturally engaging and enriching event that empowers and motivates them to be the best versions of themselves," said iEmpower co-founder Ashley Mitchell.
The five-day conference is designed to educate students on the pillars of leadership, vision, communication, team building and service, said Ms. Mitchell.
"During the week, young leaders will be engaged in unique leadership training, service-learning and motivation-building experiences," she said.
This year's conference theme is "Securing the Bag." Students will learn about financial literacy, and the importance of saving, credit, investing and budgeting.
City of Elizabeth City manager and ECSU alumnus, Montre Freeman, will be the opening speaker. Conference sessions will include an entrepreneurship panel, budgeting lessons, preparing for college and financial aid, a community service opportunity and two "Shark Tank" sessions.
Shark Tank is the highly popular, Emmy Award-winning show that challenges future entrepreneurs to create business plans and present them to a panel of experts. Students will be engaged and encouraged to create their own business plans during the sessions.
"ECSU develops leaders, and we are happy to partner with iEmpower to impact our area youth," said ECSU Chancellor Karrie G. Dixon.
iEmpower is a 501(c)3 nonprofit organization that aims to "connect with and empower underserved youth through education, mentoring and leadership enhancement programs." The mission, according to Ms. Mitchell, is to "encourage education, civic engagement, leadership and service amongst youth and their families."
The organization was founded in 2018 by Ms. Mitchell and her sisters, Dr. Tamika McElveen and Yolanda Brickhouse.
Elizabeth City State University is a UNC System constituent university in Northeastern North Carolina. ECSU offers 28 bachelor's degrees and four master's degrees and has received numerous top rankings including U.S. News and World Report's Best Colleges for the Regional South, Washington Monthly's Best Bank for the Buck Colleges, and Best Colleges Top 10 Best HBCUs.
---