ECSU Partners with Food Lion Feeds to Address Food Insecurity Across the Region
Posted On September 21, 2018
---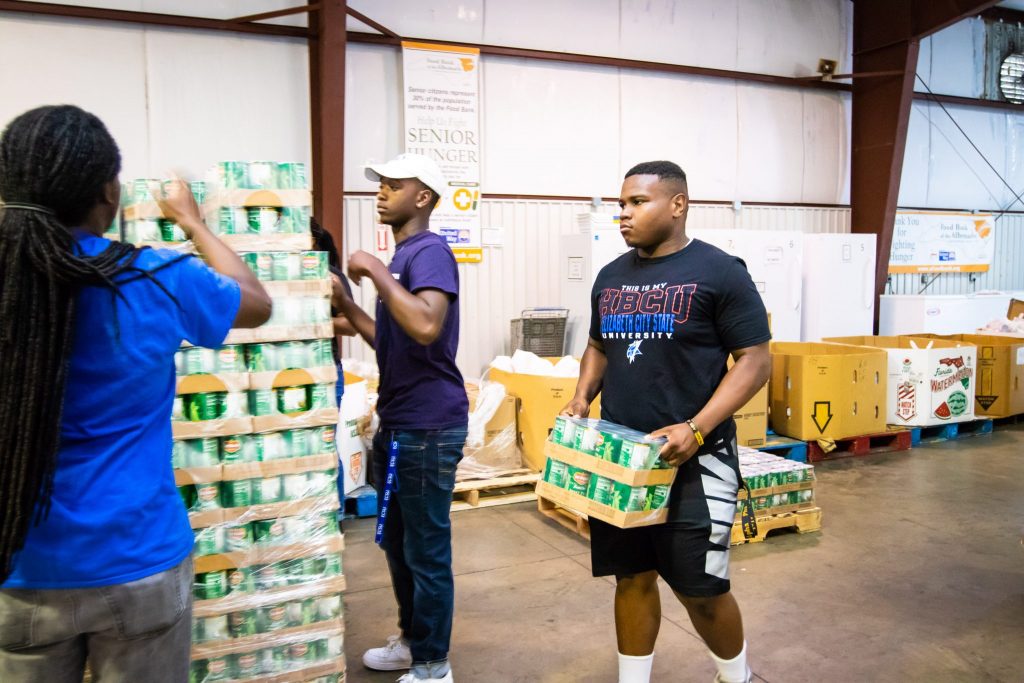 Winners of Collegiate Challenge to Receive up to $20,000 Towards Hunger-Relief
 North Carolina Campus Compact announced that they have joined forces with Food Lion Feeds to launch a "Collegiate Challenge" mobilizing colleges & universities to address hunger in their local community. Elizabeth City State University is one among a group of 18 geographically diverse schools – including four-year colleges and universities and two-year community colleges – who will be hosting events to raise awareness about hunger in partnership with their local food bank, on-campus pantries and local Food Lion stores.
All participating schools are members of North Carolina Campus Compact.  Winning schools can receive $10,000 for the most engagement and creativity on campus, and a second award of $10,000 will be awarded for the campus that collects the most food – adjusted for school size – in a food drive.  The prize funds will support hunger-related initiatives such as campus-based food pantries, campus or community gardens, food recovery efforts modeled on the Campus Kitchen Project or the Food Recovery Network, and fresh produce distribution. The Collegiate Challenge runs from September through December.
ECSU has selected Ashante Spruill, a senior student athlete at studying Kinesiology, to lead the campaign. Spruill was selected because of her high engagement level in campus activities, including Kinesiology, athletics, clubs, the Viking Food Pantry, and leadership skills. Her faculty/staff mentor is Dr. Jennifer Brown.
This movement against hunger is fully supported by the university, with Athletic Director George Bright, and Head Football Coach, Anthony Jones, stepping up to fight food insecurity on campus, showing significant support for the Food Lion Feeds events.
"Starting the Viking Food Pantry has been one of my most rewarding experiences here at ECSU," said Dr. Jennifer Brown, Assistant Professor of Kinesiology. "Ashante, along with many other Kinesiology students, has quickly caught the vision of investing in and caring for our ECSU students by providing food security options. The obvious support she has gained in such a short time speaks to the quality of character in her life and her ability to bring out the best in those that have rallied around her."
The launch event will be Thursday, Sept. 27, in the R. L Vaughan Center from 11 a.m. to 4 p.m. ECSU students, faculty, staff and the community at large are invited to come and participate in a free chance to win a Chic-Fil-A gift basket. Refreshments will be served from 11 a.m to 2 p.m., followed by distribution for ECSU students (with ID) from the Viking Food Pantry.
A "Fill A Bus Food Drive" event will be Saturday, Sept. 29, at 1 p.m. at ECSU's Roebuck Stadium for the Vikings vs. Falcons football game through a planned "Community Connect" event. ECSU's student movement against hunger includes the Viking Football team welcoming the Elizabeth City Community to attend for a $1 entrance fee and the donation of at least one non-perishable food item as part of the Food Lion Feeds initiative in an effort to "Fill A Bus" with food.
All items collected will be donated to the Viking Food Pantry. Prizes: Two gift baskets will be given away (One raffled, with proceeds to the Viking Pantry and One awarded for the largest food donation of the day). Family activities will be provided.
Help ECSU earn engagement points through media by tweeting:
#VikingPride (tweet this and ECSU earns points for the competition)
#FoodLionFeeds
Through Food Lion Feeds, the company has made a commitment to provide 500 million meals to individuals and families in need by the end of 2020. Since the launch of Food Lion Feeds in 2014, the grocer has donated more than 400 million meals through in-store campaigns, in-store food rescue programs and associate volunteerism.
---