ECSU partners with Follett to manage campus bookstore
---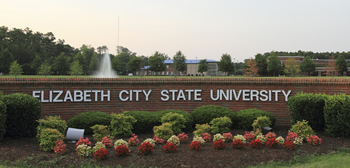 Kesha Williams
April 25, 2014
Elizabeth City State University (ECSU) is proud to announce its newest partnership with Follett Higher Education Group (FHEG). After a competitive selection process, Follett was identified as the company with the best experience, resources, technology and course material offerings to support ECSU students, parents, faculty, staff and alumni. Follett is scheduled to begin managing the University Bookstore on April 22. With this new partnership, Follett brings the largest inventory of course materials and a network of more than 8,000 publishers and providers to offer students the greatest selection of affordable options. Follett also offers an extensive selection of digital learning technologies, such as its CafeScribe® platform, inkling, Copia and many more. These cost-saving options can be explored both in-store and online through the nation's largest online textbook portal, eFollett.com. &quotWe have partnered with Follett to provide an exceptional, full-service campus store, which will enhance the student experience. They have just the experience we need to drive new programs that positively impact our classrooms,&quot said Benjamin Durant, vice chancellor for Business &amp Finance. &quotWe are thrilled to partner with Follett, a trusted provider of unlimited, yet affordable course materials and instructional services,&quot said ECSU Chancellor Charles Becton. &quotIt is our goal to provide ECSU students with outstanding resources for their education.&quot &quotWe're excited to be serving the entire Elizabeth City State University community,&quot commented Don Germano, president, Follett Higher Education Group. &quotWe look forward to working directly with the university in exploring the unique needs of the campus and identifying the right solutions to drive affordability, access and ultimately, student success.&quot For more information regarding Follett's services and locations, please visit www.follett.com. To learn more about Follett's affordable textbook rental and digital programs please visit www.rentatext.com and www.cafescribe.com.
About Elizabeth City State University
Elizabeth City State University, a constituent institution of the University of North Carolina, offers 34 baccalaureate, graduate, and professional programs for a diverse student body. The institution's rich heritage provides a firm foundation for its educational endeavors, as well as its role in serving the needs and aspirations of individuals and society. Through teaching, research, and community engagement, Elizabeth City State University provides a student-centered environment, delivered in a manner that enhances student learning, while preparing its graduates for leadership roles and lifelong learning. This 123 year-old public institution is also a leader in facilitating sustainable economic growth, while safeguarding the unique culture and natural resources of the region.
About Follett Corporation
Since 1873, Follett has served as the trusted partner in education for students and educators at all levels of learning. Today Follett delivers physical and digital learning materials, retail services, school content and management systems to more than 70,000 early childhood, primary and secondary schools, and on more than 1,000 college campuses. Headquartered in River Grove, Illinois, Follett is a $2.7 billion privately-held company.
---