ECSU Observes National Soul Food Month
---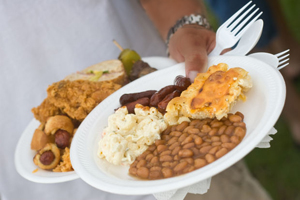 Bonnie Winston
June 21, 2011
June is National Soul Food Month. As summer gets into full swing with graduation celebrations, family reunions, Fourth of July parties and backyard entertaining, families bring out heaping platters of fried chicken, potato salad, greens and macaroni and cheese – all the traditional soul food favorites.
At Elizabeth City State University, a spread of southern, soul food favorites is laid out every Wednesday in the Bedell Hall cafeteria. Students, faculty and staff alike enjoy the delectable dishes prepared by Chef Chip Mecca and the staff with Thompson Hospitality.
Yet for people who are watching their cholesterol and blood pressure, soul food is only an occasional treat. Typically high in salt and fat, a steady diet of soul food can have health consequences.
Mecca says that good food still can be created if the cook is willing to adjust seasonings, use meat alternatives and follow healthy recommendations by nutritionists.
That's good advice considering national health statistics.
According to the U.S. Department of Health and Human Services, for every 100 employees in this country, 27 have cardiovascular disease, 24 have high blood pressure, 50 or more have high cholesterol and 26 are overweight by 20 percent or more. Additionally, 59 don't get adequate exercise and 44 suffer from stress.
In North Carolina, more than 65 percent of adults are overweight or obese, with their weight above the national average, according to the 2008 N.C. Behavioral Risk Factor Surveillance System.
All that can add up to a recipe for diabetes, stroke or worse.
For African-Americans, who suffer much higher disease and death rates than other racial and ethnic groups, healthier twists on traditional soul food dishes are in order.
A tasty alternative to fried chicken is oven-fried chicken, said Mecca. &quotCover the chicken in bread crumbs, add a bit of oil and select seasonings and bake in the oven,&quot he said.
Another alternative is a stir-fry that incorporates chicken and vegetables stir-fried in a wok. Serve it atop brown rice for the additional benefit of fiber, Mecca said.
A great resource for healthy alternatives is &quotThe New Soul Food Cookbook for People with Diabetes.&quot Written by Fabiola Demps Gaines and Roniece Weaver, both registered dietitians, the book offers recipes that merge traditional taste with healthy zest. Included are recipes for collards with smoked turkey, quick chicken creole, vegetarian bean stew and pineapple upside-down cake.
Other great low-fat, low-salt and lower cholesterol recipes and tips can be found on the web, including at Eat Smart, Move More North Carolina, www.myeatsmartmovemore.com. Mecca also likes www.epicurious.com and www.allrecipes.com. National soul food month was started in 2007 by the culinary historians of Chicago to celebrate the tastes and history of African-American cuisine in the United States.
---