ECSU observes Employee Appreciation Week
---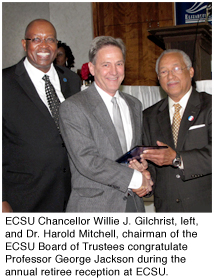 Kesha Williams
April 26, 2010
Elizabeth City State University celebrated Employee Appreciation Week April 19-23. Although other state employers recognize state employees later, ECSU holds its celebration earlier to prevent a conflict with the May 8 commencement. ECSU employs 538 permanent employees and 396 temporary employees. The Employee Appreciation Week committee led the festivities for 14 retirees at the annual Retiree Reception and at the Chancellor's annual breakfast for employees. At the breakfast, ECSU Chancellor thanked employees for their contributions to the university.
&quotToday is your day and this week is our time to celebrate the commitment of the employees who work at Elizabeth City State University. I hope you enjoy this celebration.&quot
Ms. Paula Gassaway, an HR specialist/recruitment and selection, said 84 employees received service awards in nine categories. The years of service ranged from 5 years to 40 years. There were seven employees in the 20 year category, five with 25 years of service, five with 30 years of service, one with 35 years of service and one person with 40 years of experience at ECSU. Service awards are given based on service to the university not the state.
Gassaway said the weeklong observance activities are a means of showing appreciation for the dedicated service our employees provide.
&quotThe retirees made beautiful speeches from their hearts during the retiree reception. Their comments about their experiences were so touching. Hearing their comments makes you proud to work for the university. Some of them have worked under four administrations so they've seen our student body grow, and witnessed new buildings that weren't on campus when they began working here.&quot
Dr. Deonanan, a professor in Language, Literature and Communications Department has taught several courses in the department including advanced composition for 20 years, four research courses over the years and more. He came to ECSU in 1970 under Dr. Marion D. Thorpe's administration.
&quotI don't have any special plans like other retirees such as touring the world. I enjoyed my job here very much. We are getting more and more students.&ampnbsp Our students must get a good education, master the information to be successful in life and to compete with people around the world,&quot he said. &quotI had no plans to become an administrator because I enjoyed being a professor. I like to teach, do my research so I have enjoyed ECSU.&quot
Mr. George Jackson is a professor of accounting. He has been at ECSU 14 years and served 3 years as dean of the Walter R. Davis School Business and Economics. He has served the university 14 years.
&quotI enjoyed working for ECSU. I appreciated how the university has been sensitive, working to make it a rewarding experience for faculty. We, professors, have a role to play in the community and the university supports us in that manner,&quot Jackson said. &quotI'm going into phase retirement and will continue teaching two classes per semester.&quot
---