ECSU NASA Summer Program Top Camper is on a Path to Naval Aviator
Posted On January 5, 2021
---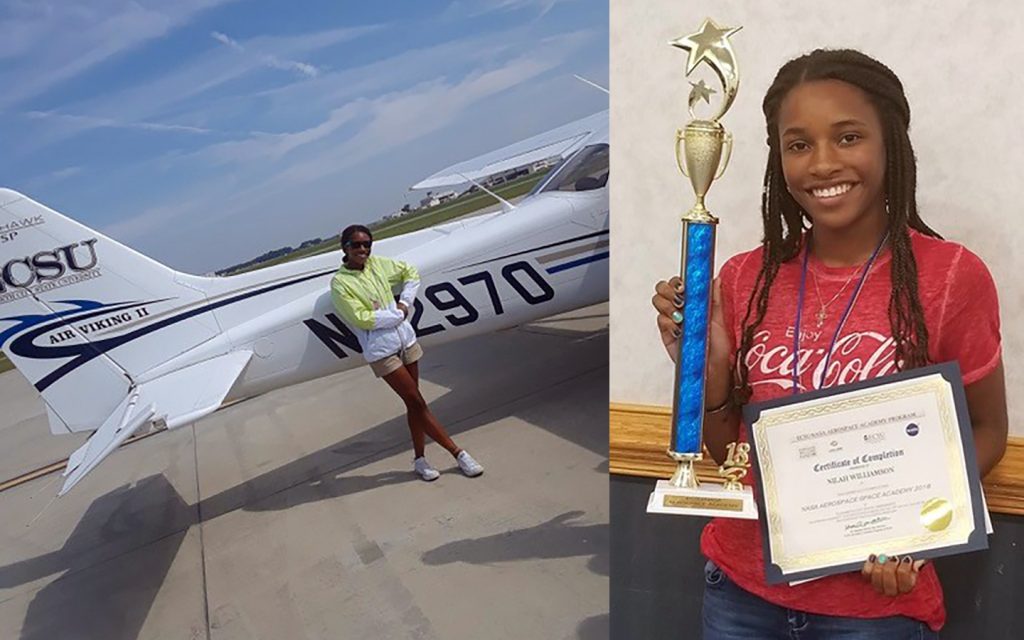 Nilah Williamson, pictured here during the summer of 2018, left ECSU's NASA STEM program as a top camper. Now the 17-year-old Arlington, Virginia native is on her way to becoming a naval aviator.
When Elizabeth City State University sponsors and hosts NASA summer programs on campus, high school students from across the state and country are coming to investigate the world of STEM (science, technology, engineering and mathematics). And some of those students, like Nilah Williamson, are here with a purpose; in this case, to become a pilot.
Ms. Williamson is from Arlington, Virginia and she recently made the national news when the ABC network's morning show, Good Morning America (GMA), featured her last fall. Ms. Williamson earned her pilot's license before she earned her driver's license, a fact that caught the attention of media in her region, and GMA.
According to the popular morning show's website, as a sixth grader, Ms. Williamson attended a leadership program designed to promote careers in STEM. It was there that she met Adm. Arthur Johnson, the chair of the Women in Aviation Advisory Board, the organization ECSU Chancellor Karrie G. Dixon was appointed to last year.
At that conference, Adm. Johnson introduced Ms. Williamson to a flight simulator. According to the GMA story, "she was hooked," and the admiral became her mentor.
Since that time, she has been pursuing her pilot's license. In 2018, Ms. Williamson attended the ECSU NASA summer program and, according to the university's dean of the School of Science, Aviation, Health and Technology and aviation program director, Dr. Kuldeep Rawat, she was recognized as a Top Camper.
"During the camp, we covered several aviation and aerospace topics. Students got the opportunity to train on our flight simulators," said Dr. Rawat. "All students, including Nilah, also received Discovery flights during the summer camp. In addition, guest speakers and field trips to aviation and aerospace related venues added to their knowledge about aviation careers."
That summer was, said Adm. Johnson, a gateway for Ms. Williamson, aiding her in fulfilling her goal to become an aviator.
"That was certainly a 'dream-fueling' summer for her," said Adm. Johnson in an email to Dr. Rawat.
Now Ms. Williamson has her license and she has a higher goal. Her next step is to become a naval aviator and join the U.S. Marine Corp.
Ms. Williamson's decision to join the Marine Corp is a matter of family tradition. Her father and brother are Marines, and naval service goes back to her great-grandfather and great-uncle.
Her role model, Ms. Williamson told GMA, is Madeline Swegle, the first African-American female tactical jet pilot in the U.S. Navy.
After graduating high school, she plans to attend the U.S. Naval Academy.
Back in 2015, ECSU was selected as one of nine universities to create and operate the summer Aerospace Academy under NASA's Minority University Research and Education Project (MUREP). The program promotes STEM literacy to prepare and encourage students to pursue college degrees.
NASA MUREP programs are designed to expand the nation's base for aerospace research and development and increase participation by faculty and students at minority-serving institutions, as well as increase the number of undergraduate and graduate degrees in NASA-related fields awarded to students from minority serving institutions.
---