ECSU named to President's Higher Education Community Service Honor Roll
---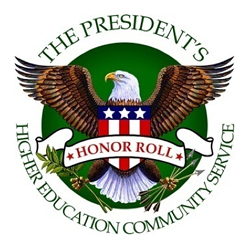 Leslie A. Garvin
May 24, 2011
Congratulations to NC Campus Compact member campuses that were named to the 2010 President's Higher Education Community Service Honor Roll!
Launched in 2006, the Honor Roll recognizes colleges and universities nationwide for exemplary, innovative, and effective community service programs. The Corporation for National and Community Service oversees the Honor Roll in collaboration with the Department of Education, Department of Housing and Urban Development, Campus Compact, and the American Council on Education. Honorees are chosen based on a series of selection factors including scope and innovation of service projects, percentage of student participation in service activities, incentives for service, and the extent to which the school offers academic service-learning courses.
This year a total of 641 colleges and universities were recognized for their impact on issues from literacy and neighborhood revitalization to supporting at-risk youth. Of that total, 511 were named to the Honor Roll, 114 received the recognition of Honor Roll with distinction, 11 were identified as finalists, and six received the Presidential Award.&ampnbspThirty-three North Carolina institutions were named to the honor roll, five with distinction.&ampnbspTwenty-eight are NC Campus Compact members.
Below are the 2010 Honor Roll members from North Carolina. Again, congratulations! This is a true testament to the community-campus partnerships throughout our state.
Honor Roll Members with Distinction
Elizabeth City State University
Johnson &ampamp Wales University (Charlotte) non-member
Mid-Atlantic Christian University (Elizabeth City) non-member
North Carolina Central University (Durham)
University of North Carolina – Wilmington &ampnbsp
North Carolina Honor Roll Members
Cabarrus College of Health Sciences (Concord) non-member
Campbell University (Buies Creek)
Catawba College (Salisbury) non-member
Central Piedmont Community College (Charlotte)
Davidson College (Davidson)
Duke University (Durham)
East Carolina University (Greenville)
Elon University (Elon)
Fayetteville State University (Fayetteville)
Gardner-Webb University (Boiling Springs)
Greensboro College (Greensboro)
Guilford College (Greensboro)
Johnson C. Smith University (Charlotte)
Lenoir-Rhyne University (Hickory)
Mars Hill College (Mars Hill)
Meredith College (Raleigh)
North Carolina State University (Raleigh)
Peace College (Raleigh)
Pfeiffer University (Misenheimer)
Queens University of Charlotte
St. Augustine's College (Raleigh) non-member
University of North Carolina at Chapel Hill
University of North Carolina at Charlotte
University of North Carolina at Greensboro
Wake Forest University (Winston-Salem)
Warren Wilson College (Asheville)
Western Carolina University (Cullowhee)
Wingate University (Wingate)
To learn more about the Honor Roll visit: www.nationalservice.gov/honorroll.
---