ECSU Named One of Top 'Voter Friendly Campuses' in Nation
Posted On February 28, 2019
---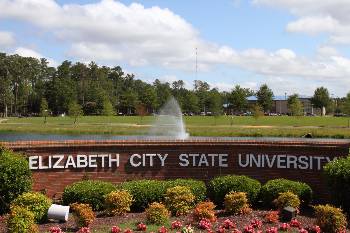 Elizabeth City State University has been designated one of the nation's "Voter Friendly Campuses," through a program sponsored by the national student affairs professionals organization, NASPA.
According to NASPA officials, 123 campuses in 31 states earned the designation through the program sponsored by NASPA's Student Affairs Administrators in Higher Education and Fair Election Center's Campus Vote Project. The program requires campuses to engage their student body and promote voter registration and voting as part of their institutional mission.
For its part, ECSU's Office of Community and Economic Engagement coordinated campus voter engagement events on campus.
"Our students created a student engagement plan that they implemented with cooperation with the NENC League of Women Voters, Pasquotank NAACP, and Campus Vote Project," said Russ Haddad, director  of the Office of Community and Economic Engagement. "The result was greater awareness about voter registration and participation in last year's midterm election."
Throughout 2018, campus representatives participated in trainings to develop, implement, and report results for engagement programs that encouraged their students to register and vote. Campuses were evaluated on their ability to complete a three-step process: writing a campus plan to engage student voters in the fall of 2018, facilitating voter engagement efforts on campus, and writing a final analysis on the efforts.
"Instituting voter engagement, registration, and turnout efforts on college campuses is not easy feat for institutions," said NASPA President Kevin Kruger. "With the second iteration of the Voter Friendly Campus program, we've learned that campuses that have been most successful in fostering a campus climate inclusive of democratic participation do so by intentionally including multiple facets of the institutions community in fostering the skills, knowledge, and dispositions supporting students' civic agency."
---