ECSU Music Students Get Master Class with World Class Jazz Drummer Jae Sinnett
---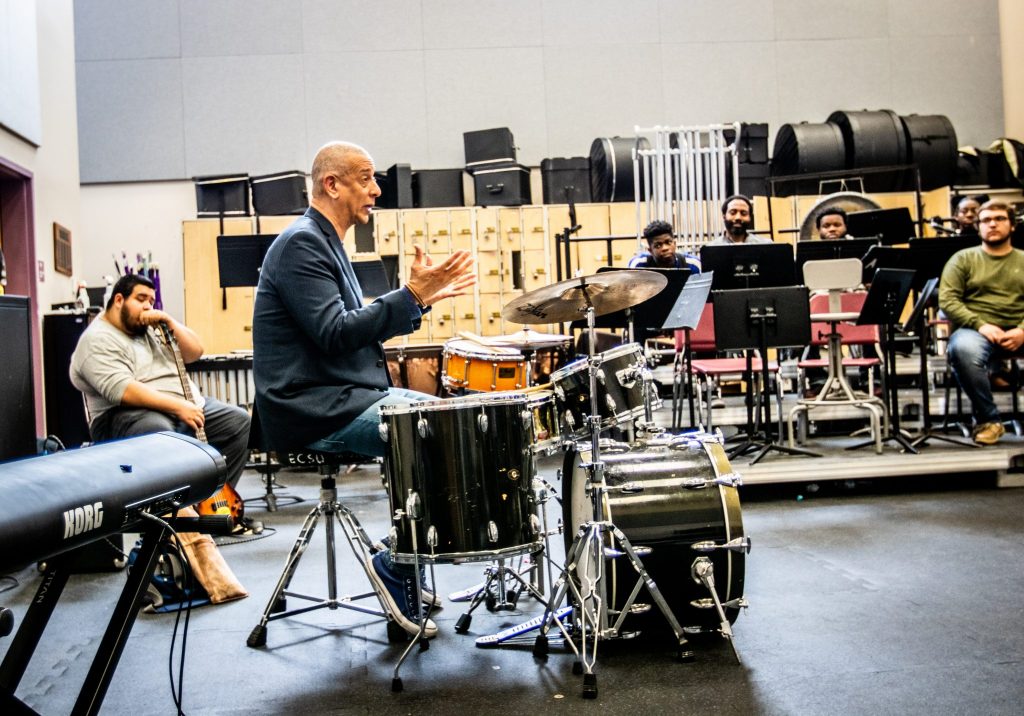 Elizabeth City State University music students will have to try pretty hard to get better than world-class drummer Jae Sinnett when it comes to guest lecturers. The jazz drummer and public radio show host came to campus Friday, April 5, to talk music and careers.
Sinnett is no stranger to ECSU. In the past, he has performed as a guest musician during the annual Jazz Festival, and he's talked with students about music. His message to students Friday was simple: You have to practice.
Sinnett pointed out that more and more it is becoming difficult to be a working musician. He said musicians who want to perform should also consider music education.
"There's a lot of great music out there," he said. "I get stacks of CDs from unknown musicians all the time."
He also talked about what it takes to become a great musician. Practice, he said, is the only way to evolve.
Sinnett gave students tips on how to develop their style and emphasized that making sacrifices for their art through constant practice is necessary to grow as a musician.
Sinnett began his music career after he left the Navy. The Pennsylvania native was dating a singer and while he could play around on the drums, he wanted to get better so began taking lessons.
From there Sinnett enrolled in school and eventually earned his degree in music.
Sinnett would evolve into a drummer, composer, and bandleader. Throughout his career, he would produce 15 albums going back to 1986.
Sinnett has also spent three decades as a jazz producer and host for NPR affiliate WHRV-FM 89.5 in Norfolk, Virginia. He hosts the popular jazz show Sinnett in Session, Monday through Thursday, 9 p.m. to 1 a.m., and Sundays from 1 p.m. to 5 p.m.
He also hosts The R&B Chronicles every Friday 7 p.m. to 8 p.m.
Sinnett has performed with many artists over the years, including Branford and Ellis Marsalis, Joe Henderson, Freddie Hubbard, Chuck Mangione, Charlie Byrd, Herb Ellis, Chico Freeman, Arthur Blythe, Carol Sloane, Jon Hendricks, Randy Brecker, James Moody, Kenny Drew, Jr., Fred Hersch, Mulgrew Miller, James Williams, Jack Walrath, Makoto Ozone, JoAnne Brackeen, Andrew White, and Frank Morgan.
---